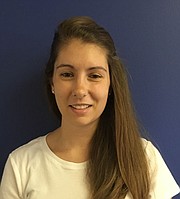 Carole's father suffered from a neuromuscular disease and was living alone in his three-story Alexandria home. After a fall last July, Carole and her brother decided that the home was not a safe setting for him anymore and reached out to Rebuilding Together Alexandria to donate four stair lifts that had been installed in her father's home over the years. Carole worked for the City of Alexandria for 30-plus years and was very familiar with the services that Rebuilding Together offers low-income residents.
Several Rebuilding Together homeowners are elderly and have mobility issues, and as a non-profit that keeps people in safe and healthy homes for as long as possible, we were eager to provide these stair lifts to others we serve. We worked with Carole and Area Access Inc., which specializes in health transportation products, to disassemble the stair lifts and install them in the homes of four in-need Alexandria residents.
One of the new owners of a donated stair lift had originally requested the lift for her disabled husband so he would be able to get up and down the stairs. Her own arthritis worsened to the point where she was walking with a cane and also needed to use the stair lift. Thanks to the installed lift, now they can both move about their home safely and more easily.
Just one donation or one volunteer day served may not change the world but the world will certainly change for that homeowner. As Carole stated, "We are so pleased we were able to assist four low-income homeowners in Alexandria. We have lived in Alexandria since 1951 and it is good to know there are organizations in the city that can assist not only those who have items to donate but also those who need the assistance."
Whether you would like to become a proud donor like Carole or spend an afternoon lending a hand and hammer, please introduce yourselves to us. When our donors, volunteers, and homeowners come together they learn, laugh, and create a stronger, more vibrant community.
For more information, call 703-836-1021 or visit www.RebuildingTogetherAlex.org.