Family is a central focus for Tamir, who lives with his wife and two teenage children in Alexandria. He was laid off in the fall and started working as an Uber driver to make ends meet while he seeks a new job. Making matters worse, his refrigerator broke the week before Thanksgiving. With money tight, he did not know how he was going to replace it.
Then he learned about Rebuilding Together Alexandria, which works to preserve housing affordability and revitalize the Alexandria community by providing free home repairs. With the help of our donors, Rebuilding Together Alexandria, is able to offer emergency home repair services to homeowner's in-need.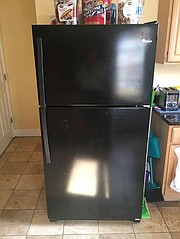 In this case, we replaced Tamir's refrigerator, enabling him and his wife to cook and host Thanksgiving dinner for their children and his wife's family from Connecticut. He was relieved and grateful as Thanksgiving is extremely important for Tamir, "It is my favorite holiday. Everyone celebrates it here, all ethnicities, and all religions."
Originally from Egypt, he has lived in Alexandria for many years. "It is beautiful. I love Alexandria," he said. When he is able to get back on his feet, he would love to help his brother move here and start a new life. First though, he believes that it's important to be happy and thankful at home and that this stability affects the rest of your life beyond the home.
While Tamir continues to search for a new job, his home requires more upgrades to keep his family safe and secure. That's why Rebuilding Together Alexandria volunteers will be replacing bathroom faucets, installing closet doors, repairing outside fencing, and installing a CO2 alarm on April 30 during National Rebuilding Day.
On this national day of service, more than 800 Rebuilding Together Alexandria volunteers will spread out around the city and help neighbors with repairs and upgrades to their homes. The work is fun but also important as more low-income homeowners struggle to maintain their homes. It's also an important way we as neighbors can help each other while revitalizing our community.
With Rebuilding Together as a partner, Tamir can focus on making a better living for his family, starting with getting a better job, ideally in the government. Then he can help his brother. If you know someone like Tamir who could benefit from our services, we encourage you to introduce them to us. For more information, call 703-836-1021 or visit www.RebuildingTogetherAlex.org.