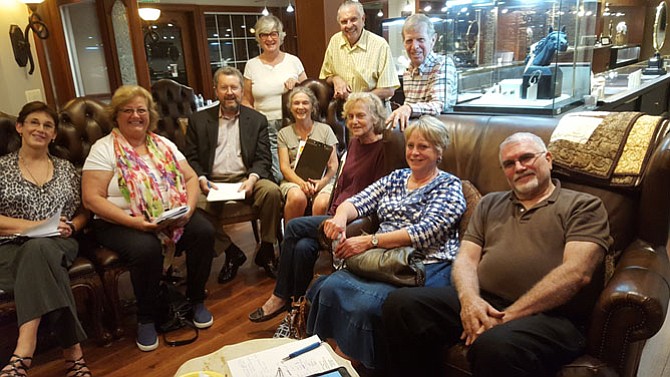 As we reflect on the many journeys we have taken around the country and the world - whether by photos, film or airplane - memories of historic structures stand out, marking places as unique, special, and even remarkable. Historic structures speak to us and inform us about those who have come before us, creating a sense of place.
Honoring Significant Historic Structures
On Oct. 15, 1966, the National Historic Preservation Act of 1966 was passed, encouraging our nation to keep those historic structures deemed national treasures in tact and to stop demolishing our most important historic and archeological sites.
Over the last 50 years since that Act, residents of Great Falls have labored to gather the history and survey the standing structures, identifying those with structural integrity of national-treasure importance. They have added Four Stairs, 1737, The William Gunnell House, 1750, The Potomac Canal Historic District, 1786, The Colvin Run Mill circa 1811, The Georgetown Pike 1813, The Cornwell Farm 1831, The John Gunnell House 1852, The Forestville Schoolhouse 1889, and The Great Falls Grange 1929 to the National Register of Historic Places. Further, a Colvin Run Historic District 1880-1943, comprising intact buildings of historic significance along Colvin Run Road – the former location of the historic Leesburg Pike 1732-1943 - as well as the Colvin Run Road itself, has been deemed eligible to be added to the National Register of Historic Places.
Further, Fairfax County has a List of Historic Sites of local significance that includes an additional 30 sites located in Great Falls. Knowing that those here before us built beauty and established economy makes us proud to live in a place imbued with meaning.
Repurposing Historic Structures for Our Day
Woodridge Brown Morton III became one of the initial architects involved in setting up the National Park Service's Office of Historic Preservation in 1966 and participated in defining the rules of nomination and the process of evaluation and protection. After 50 years as a historic preservation architect, Brown Morton defines historic preservation differently. To paraphrase,
"Historic Preservation is the dynamic and deliberate process through which we decide what to keep from the present for the future and then work to keep it… It is a process because it is a beginning but should have no end…It is a process in which we decide what to keep from the present for the future…It is always a value judgment… It is an autobiographical undertaking. We paint a picture of ourselves when we decide what we choose to preserve and why…
"The past, when it was present, was a multi-dimensional reality. Today, we have only the bones that yesterday left behind on our plate.
"The past is the past and can never be recaptured. A higher and nobler goal must be to recognize the importance of place in successful human development. Place matters. Successful human development requires robust individuals and a safe and healthy environment as well as dignity, celebration, shared remembering, and a sense of belonging for those who live there now. By making a place a good place to grow good people, we must commit to exploring how a place matters in impacting people."
Woolridge Brown Morton III, Beyond History – Success and Failure in Preservation, Part 1, Feb 20, 2014, NCPTT, www.Vimeo.com
Let's take the Great Falls Grange as an example. Between the time the Grange was formed in 1920 and the building was opened in 1929, the structure already had an impact on the imagination of the Great Falls community. During the years leading up to the Great Depression, local residents held fairs, bingo games and raffles to raise money for the building. Finally, the Grange members took out a loan for $7,500 to get the building built. They could not wait any longer to have a place to gather.
Walking through the Great Falls Grange today, you can almost feel the Friday night chicken dinners, the Saturday evening dances, the Grange Hall meetings where progress along levels of virtue tied to the seasons guided member discussions and interactions.
Over the years, the Grange became a place where the community gathered. There was theatre and music and community meetings, Great Falls Day and more. Since the Park Authority purchased the Grange in 1978, use of the Grange has slowly deteriorated as the Park Authority sought to charge fees to cover costs. They are now empty buildings that are rarely used.
A new community group has just been formed this past Wednesday evening, Aug. 17, 2016 - The Great Falls Grange Project. Its purpose is to search for ways that the community might revive the historic Great Falls Grange Park, a historic district listed on the National Register, which includes the Great Falls Grange as well as the Forestville Schoolhouse.
Looking at historic preservation from Brown Morton's perspective, the question of this new entity needs to be, "How can these historic buildings be repurposed so that they contribute to successful human development in Great Falls, making the Great Falls Grange "a good place to grow good people?" How can we offer a "safe and healthy environment" where those who visit and engage part of their lives in activities within its boundaries can experience "dignity, celebration, shared remembering, and a sense of belonging"? The correct call for today is to take the historic structure and repurpose it in a way that honors and inspires our shared humanity – that calls us to a higher way of being.
The commitment put in place this past Wednesday evening calls us to consider how to form a union that makes each individual entity meaningful and relevant within a larger caring for all of us together, with shared responsibility, shared concerns, and shared delights.
Neighborhood Storytelling for Tomorrow
The Great Falls Historical Society was founded in 1977 to "promote community spirit by bringing the past into the present." This April 2017, GFHS will celebrate its 40th anniversary in service to the mission of bringing people together to gather and celebrate the history of this place where we all live together in community, Great Falls, Virginia.
After 40 years of dedication to local history, GFHS has a birthday present request, indeed a challenge. Wouldn't you like to give us a big birthday present? We challenge residents of individual neighborhoods within Great Falls to become historians, crafting the story of their neighborhood: searching the past, describing the realities of the present, and imagining its future.
Go back as far as you can, but also come fully forward. Include the structures of yesterday, but also include the structures of today. What are the smaller and older structures in your neighborhood? What are the mega-mansions? What works, in terms of growing happy people, and what needs improvement? What is the story that you and your neighbors wish to convey about where you have come from and where you are headed that future generations might enjoy knowing about?
On Jan. 11 and March 8, 2017, our monthly programs will focus on Neighborhood Stories – a portion of the program is open to any group within Great Falls who has prepared the history of their neighborhood. Participating teams will also be welcome to display their research on Great Falls Day on Saturday and Sunday, May 6 and 7, 2017 at the Great Falls Grange Park. Prizes will be awarded to the best research and storytelling presentations.
We never know how our story might shape up or where our story might travel. Marge Gersic died this past July. She was an actress, and then a local advocate. Four years ago, she agreed to provide an oral history of her life, including her volunteer activities in Great Falls. Upon her death, we are presenting her oral history on our web site. This is a chance for residents of Great Falls to hear firsthand how things used to be and listen to her willingness to play a part in making our community special through her committed actions, working together with others for the good of the whole.
We did not know, when GFHS was founded in 1977, exactly what "promoting community spirit" was all about. With the call that Brown Morton has issued to go higher in our aspirations, repurposing historic sites to edify humanity today, we need to take a look at our neighborhood history so as to ensure that, in every way possible, we continue to make our neighborhoods throughout Great Falls, today, a good place to grow good people.