The George Washington Patriot Run, co-sponsored by Mount Vernon and the Alexandria George Washington Birthday Committee, will be held on Sunday, Sept. 11, and will feature an opportunity for entrants to run in teams known as Centipedes. The Centipede teams will run alongside other race competitors as a group of at least 10 physically attached runners and compete in the 10K race to the finish.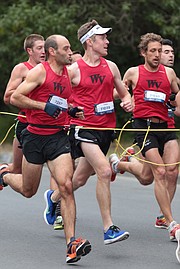 The idea of Centipedes is being imported from San Francisco's Bay to Breakers race. The first Centipede ran in the '70s when the U.C. Davis Aggies Track Club decided they were tired of running races in the traditional manner. The team took a long piece of cloth and cut holes for the heads of the runners and called it a Centipede. The idea caught on and has become a staple of the San Francisco race, known for its whimsy and fun.
The idea has also been gradually employed around the country, and has now arrived in Alexandria. Teams of 10 or more runners will compete against one another to win the Centipede division of the Patriot Run. Costs and rules are posted on the race website at www.MountVernon.com/run.
The Patriot Run will have two USATF-certified courses for 10K and 5K that take runners up and down the scenic George Washington Memorial Parkway and trace Washington's footsteps into the historic area at Mount Vernon. The race finishes with the Mansion in view. A free children's "Fun Run" will be held near the finish line (registration required).
Centipedes may also issue challenges to other Centipedes for their own special competition in the context of the overall race.

There will be a bag check for all run participants.

All 10K and 5K runners will receive a t-shirt, a finisher medal, and a post-race drink ticket.

Runners may take a finisher photo with "General Washington."