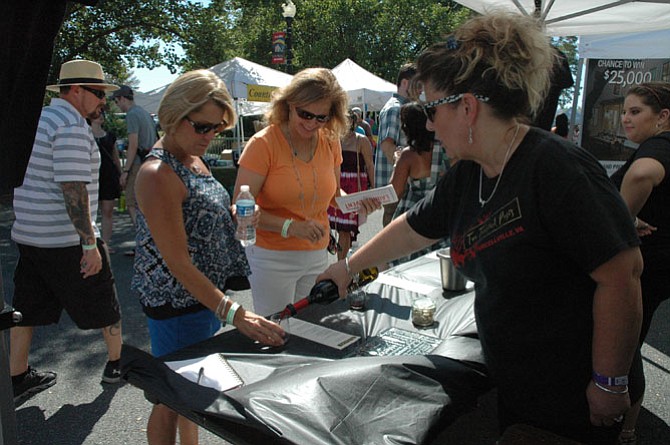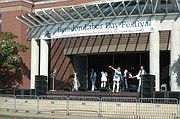 Herndon Labor Day Festival, an annual one-day outdoor street festival featuring live music all day, Virginia wineries, local craft brews, a craft show, sponsorship gallery, and a variety of food vendors will be held on Monday, Sept. 5, 11 a.m.-5 p.m. at the Downtown Herndon and Herndon Municipal Center Lawn, 777 Lynn Street, Herndon. The Town of Herndon Parks and Recreation Department produces the event in conjunction with the Herndon Woman's Club. Partial proceeds go to scholarship programs.
Admission with unlimited wine tasting and 2 craft brew tastings - $20,
entrance only - $5. Children 12 and under free; no pets allowed; tastings end at 4 p.m.
Concerts schedule:
11 a.m.-12 Acoustic Soul, classic rock and blues duo
12-1 p.m. Houk Robinson, acoustic top 40 duo
1-2:30 p.m. English Channel, 60s and 70s brit rock/pop
2:30-3:30 p.m. Sweet Yonder, bluegrass inspired Americana
3:30-5 p.m. Gringo Jingo, Santana tribute band
Featured Virginia Wineries: 868 Estate Vineyards, Cardamon Family Vineyards, Creek's Edge Winery,
Horton Vineyards, Mattaponi Winery, Rebec Vineyards, Rogers Ford Farm Winery, and Two Twisted Posts Winery.
Featured Craft Brews: Blue Mountain Classic Lager, Forge Belgian Blonde, Mad Fox Kölsch, Devils Backbone Vienna Lager, South Street Satan's Pony, and more.
The Town of Herndon Parks and Recreation Department is nationally accredited by the Commission for Accreditation of Park and Recreation Agencies and is a four-time National Gold Medal Award winner for excellence in park and recreation management presented by the American Academy for Park and Recreation Administration. The Town of Herndon, located in western Fairfax County, is the third largest town in the Commonwealth and is home to more than 23,000 citizens.
For more information, visit the Town's website at herndon-va.gov/recreation.