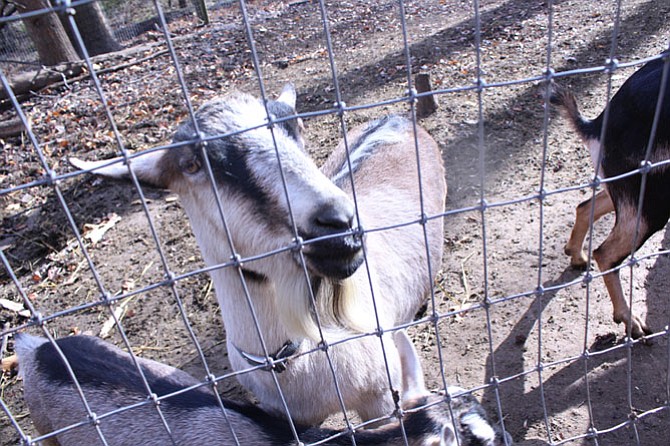 Great Falls — "You can't keep a scientist out of the lab," says Sarah Wehri.
Wehri graduated from the University of Maryland with a doctorate in biochemistry and had a baby shortly after. When her baby's sensitive skin started breaking out, she had an opportunity to use her skills to find a solution.
"I was making soap for my daughter who had super sensitive skin," she says. "Lotion would make her breakout, so I made my first lotion for her. It was a fun challenge to start with."
This chemist's challenge turned into a business.
"Friends started buying from me and it just grew from there," she says.
Amalthea Ridge's best-selling products include its "Oatmeal & Honey Facial Bar" that contains honey from her neighbor's hive and its "Oh, Momma! Revitalizing" bar and cream, which contains cacao that leaves a sweet chocolate smell.
Wehri's background in farming in rural Van Wert, Ohio, during her childhood gave her the skills necessary to help her family raise the goats that supply the milk—the primary ingredient for her skincare line.
"It's important that dairy goats get the right nutrition—alfalfa, high-grade feed, all they want," she said.
But she says it's science and her ability to, "ask questions, think for herself and find answers" that is the main factor behind her successful products and growing business.
MOST SOAPS dry out your lipid layer, the layer that protects your skin from the external environment, which results in skin irritation, she says.
"Even with oily skin, you need hydration though [that skin type] tends to break out," she says.
When people opt for using soaps with natural ingredients, they often get the same results. This is because the natural preservatives being used in many natural soaps are actually irritants, she says.
Her homemade products avoid these irritants, which is why she says she has "religious users."
"You can tell a difference, the moisture level and complexion," she says. "They don't deplete your skin."
She uses parabens in her products. These are compounds used as preservatives in skincare products that stop fungus, bacteria and other microbes from growing in lotions and creams.
Some natural skincare products have stopped using these compounds because a debate has been building about whether these ubiquitous chemicals may be harmful to health.
As a scientist, she insists there are no facts behind the claims that they are harmful.
"I stand behind them," she says.
Her growing lists of users agree.
AMALTHEA RIDGE'S customers also enjoy supporting a "local and earth-friendly" company.
A requirement for all her goat herds is that they have pasture access. Her goats currently have access to three acres of land on her family's property in Great Falls. Her company also strives to only use high-quality, organic oils as ingredients for its products.
"You get what you pay for," she says. "The quality of ingredients is comparable to high-end lotions."
In addition to Amalthea Ridge's skincare products, the company also offers a herd share where shareholders can get fresh goat milk and cheese.
"It's a fun way for people to get the milk and cheese they want locally," Wehri says.
But she dreams of operating a full-fledged dairy.
Her husband Keyvan Moussaui and three children: two daughters, 8 and 2, and son, 2, are now searching for more land to expand their family business to make the dairy a reality.
They are hoping to find a couple of 15-acre parcels of land in Great Falls that will accommodate satellite herds.
"We can make it work, but we just need to find the right people," she says. "It's for people who want the agricultural tax break, but don't want to be agricultural," she says.
Right now, she uses one milking machine in her backyard to fill a five-gallon pail from a shed in her backyard. The milk is then processed at a lab inside her home.
"We want to have a milking parlor at each spot with a central milk processing center," she says. "We have spoken to a dairy inspector and they are willing to work with us."
The family estimates they will need $60,000 of new equipment.
"We want to be putting in equipment by next summer," she says.
IN THE MEANTIME, Wehri is working on expanding her outreach programs.
She currently hosts soap making and natural skincare classes at Old Town Coffee Tea and Spice in Alexandria and has been working with librarians at the Great Falls Library to start a science, technology, engineering and mathematics (STEM) program for elementary students in February. The STEM program will provide hands-on ways for kids to explore.
"They're at an age where we can get them into science," she says. This is especially important for girls, she says.
"Having a female role model changes the dynamic of what is possible … it normalizes women in science," she says. "Why should we think twice about a female scientist or a female farmer?"
Amalthea Ridge sells its products online at www.amalthearidge.com and at the Old Town Farmers' Market in Alexandria, the Vienna location of Potomac Vegetable Farms on Route 7 and the H Street NE FRESHFARM Market in Washington, D.C. MOM's Organic Market also carries the company's line of soaps.