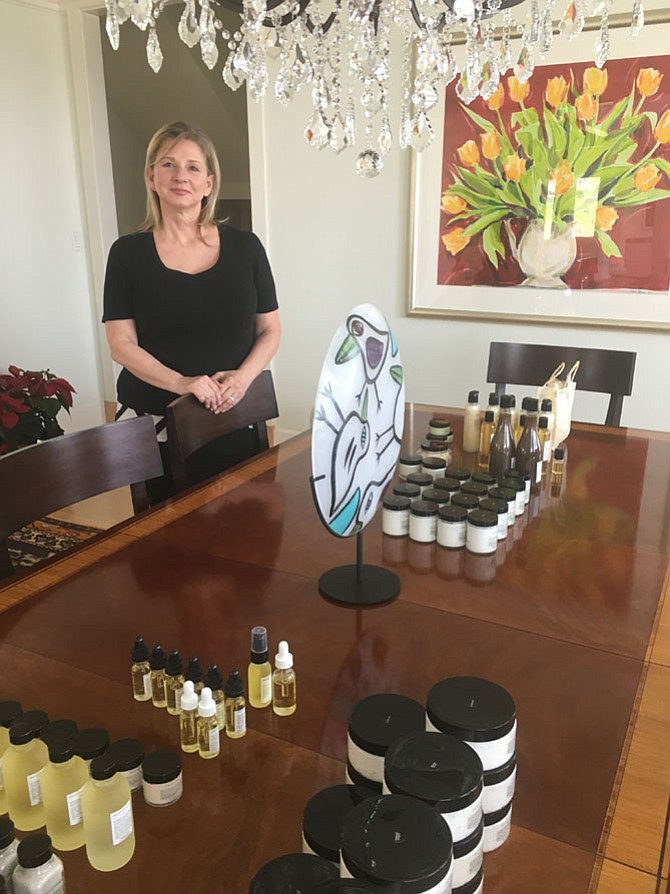 Spend just a little time with Renan Kennedy, and you will be reading not just food labels, but labels on every moisturizer and skin care product in your arsenal.
Kennedy is the founder of Sans Skincare, a natural, plant-based skincare brand.
"Sans," she said, "means 'without' in French."
And her products are without harsh chemicals, even not harsh chemicals, anything that works against the natural environment of the skin.
A rule of thumb, she said, when looking at the ingredients of skin care products, is to look for water.
"Then you know it's not an all-natural product," she said. "Water in a formulation means you have to put in a preservative, which is fine, but the problem is, when you put it on your skin, you destroy the ecosystem on the body. Bacteria on skin is so important — it protects us."
Kennedy, who spent years working as a graphic artist, said she became interested in skin care products when her mother was undergoing chemotherapy for pancreatic cancer.
"Her skin was so dry, [my sister and I] were lotioning her every day," she said. "A friend who worked for a company that formulates lotions said not to use them on [my mother]."
So, Kennedy started looking for something else.
"I didn't understand, there is so much bad stuff in [skin care formulas]. I was just an average person, so I started looking up the words on products," she said.
Her research led her to create natural, plant-based products that work with the skin, she said.
"I came to this from the back end," she said. "My love is not mixing ingredients; my love is learning about the ingredients."
Kennedy's mother died in 2012 and within six months she realized that so many friends were asking for her moisturizers that she began to think about creating a business.
"When I started selling, I became a company," she said.
At first her focus was on "word of mouth" advertising but she soon realized the need for a long-term business plan.
That is when she turned to SCORE, an organization of volunteer business experts providing free small business mentoring sessions and workshops services to clients in nationwide.
Kennedy said her mentor is experienced in retail.
"He has been wonderful," she said. "He is smart, knowledgeable, and resourceful."
This year Kennedy entered SCORE's American Small Business Championship and was selected one of two winners from Maryland. The other state winner is also a local business: The Pediatric Development Center, LLC, of Silver Spring, submitted by Amy Wetherill.
As a state winner, Kennedy will go to Reno, Nevada to compete against other state winners and two from the District of Columbia for one of three $15,000 awards to invest in her business.
Kennedy already knows what she will do with the money when she wins.
"It would be huge for me to go to a trade show and get my products in front of people," she said.
"I really do feel that we are doing something good. It's my mission. People don't understand the complicated world of chemicals and we've taken it upon ourselves to educate. I lost my mother and just recently my sister to cancer. This has got to end. I vet every single ingredient that goes into my skincare for purity and safety. I'm a home-grown girl, people in my community know me and trust me. They know I've made it my passion to build a business that stands for honesty and keeping people healthy. It's much more than just pushing products. It's about doing event after event and talking to people, especially young girls who need to develop healthy skincare habits. It's about educating so people can make informed decisions about what they bring into their lives. I want to teach people what I've learned about living a healthy life. Because of my losses to cancer, I do many events to raise money for cancer. We've all got to make a difference, and it starts right in our own backyards," Kennedy said in her contest entry.