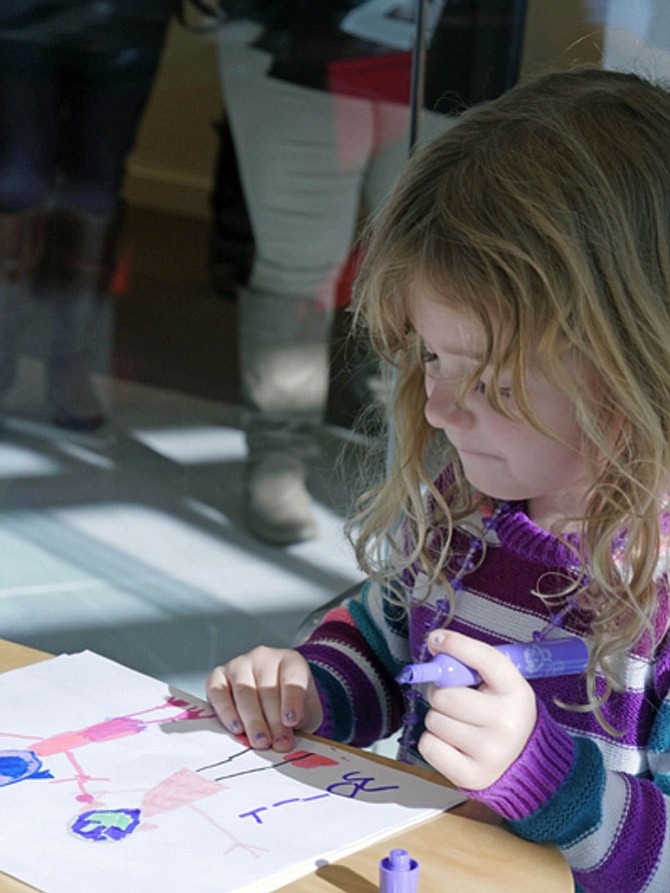 Tables are piled high with canned green beans, boxes of stuffing and mashed potatoes, cans of broth and yams and marshmallows; "for some reason we got double marshmallows. But one of our volunteers says you have to put marshmallows on sweet potatoes." Brenda Stone, Realtor for Keller Williams Realty on Duke Street and organizer of a community effort to produce turkey dinners, says, "We have been doing this for the last six years."
Stone says they get the names of the families from ALIVE! (Alexandrian Involved Ecumenically) and then they seek dollar donations. ALIVE! is the largest private safety net for the needy in the city of Alexandria, a 501(c)3 nonprofit organization of volunteers from more than 40 religious congregations and the community working together to help those in need in Alexandria.
"We used to ask for food donations but that didn't work as well because it was difficult to predict the numbers and get what we needed. So we order from Shopper's Food Warehouse and they deliver the supplies." Stone adds that MBH Settlement Group donates the bags. They support everything around the city, and it was a big help to us."
Stone says two years ago they provided 435 dinners but that wasn't sustainable so this year ALIVE gave them 75 families. "That shows you the unmet need. That year the social workers went out to the schools and each school gave us 25 families. We delivered the food to the schools. But the children who picked up their dinners felt a stigma that they needed the help. One of the volunteers delivered the turkey dinner to a family at T.C. Williams so they wouldn't feel the embarrassment." That year I posted on my Facebook, "I am very reflective and grateful for the opportunity in my life. I am so thankful that we are able to bring them this dinner that will last for many meals but saddened to see where they live."
In a room down the hall a different crew is lifting heavy turkeys into plastic bags. Just inside the front door, a crew of four is hand drawing Thanksgiving cards. Four-year-old Molly Welch is just finishing a picture with her washable markers "for another 4-year-old girl who doesn't have enough money to buy a Thanksgiving turkey."
At 6 p.m., 15 drivers will meet and each load up dinners for five families. Ryan Stuart says it is an adventure driving around Alexandria traffic at rush hour. "But often kids are waiting for you because their parents are working two jobs. Their eyes get big when they see all of the food, and we get lots of hugs."
Stone says one year they had a family living in a hotel who couldn't cook so they gave the family gift cards so they could buy Thanksgiving dinner. Sometimes there is a big family with only a table and two chairs and no other furniture. But the volunteers always get plenty of smiles.
People at Work is a weekly column focusing on people doing jobs in the community. Send suggestions to Shirley Ruhe at sruhe@connectionnewspapers.com.