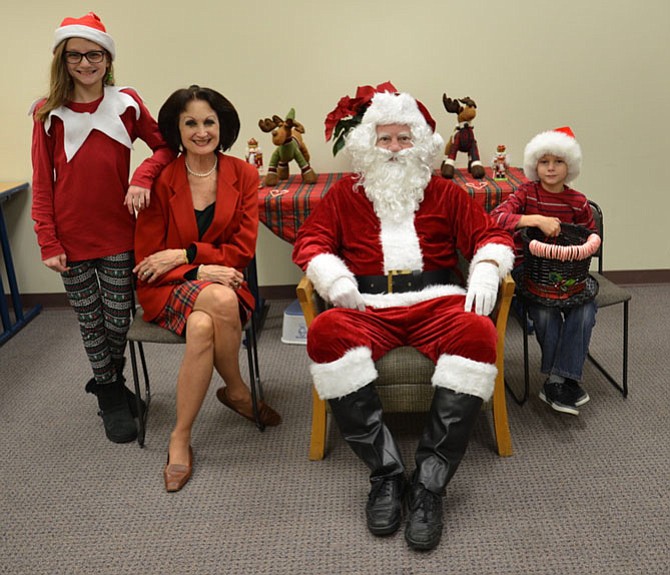 Herndon — Despite their no doubt very hectic schedule at this time of the year, Santa, Mrs. Claus, and two of his favorite elves managed to fit in a visit to the Winter Open House at the Herndon Fortnightly Library on Saturday.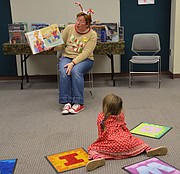 Co-sponsored by the Friends of the Herndon Library, the Fortnightly Club, ArtsHerndon and the Herndon Chamber of Commerce, the lobby level of the library on Center St. was transformed into a bustling Santa Workshop from 1-4 p.m. "Gingerbread" was the theme, and children (of all ages!) gathered around tables to make their own gingerbread men and cookies, participate in other arts and crafts and generally let their holiday-inspired imaginations run wild, while listening to the sounds of a trio of string players from Herndon High School.
Nicholas Black, Director of Music for ArtSpace Herndon, added "people conducting" to his regular repertoire as he circled the venue, helping to check on the young attendees at each station. Anna Warburton and Amanda Jasper of FuzzieTales, (contact amandajasper100@gmail.com for info about this "storybook adventure club") did a bit of orchestrating of their own, keeping a happy flow of children well-entertained at their table filled with gingerbread-themed activities. All of the action kept the kids occupied while they awaited the arrival of the star of the event – Santa.
Eventually that jolly individual made his appearance and settled into his Workshop, with Mrs. Claus and elves Lauren and Alex on hand to help. Families were shepherded into the Workshop to meet their hero and whisper their Christmas wishes into his ear. Waiting families were not left to simply stand on some endless line, as many Santa visits demand, but instead were treated to a comfy spot in the outer room where Stephanie Gardner, a library employee, kept them captivated with her readings of holiday stories.
Was the event a success? "Oh yes!" declared four-and-a-half-year-old April Cao. "This is a good place to see Santa since you can have real fun!"