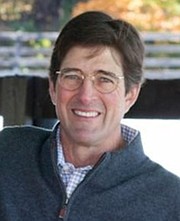 Chester William Fannon III (Chet) of Middleburg, Va. died peacefully on Saturday, Dec. 3, 2016 with his wife, Kate Armfield Fannon and his sister, Heather Fannon Young by his side.
A loving husband to Kate and a respected and cherished father to Kingsley and Chester, Chet was born on Oct. 21, 1961 in Alexandria to Chester William Fannon Jr. (Bill) and Mary Frances Tucker Fannon. His childhood was spent at Laurel Hill in Rappahannock County, Va. His love of and years spent on the family farm fostered his lifelong passion for the outdoors, bird hunting, dog training and habitat restoration. He also enjoyed horseback riding and had been an accomplished polo player.
Chet was a graduate of the Blue Ridge School in Albemarle County and James Madison University in Harrisonburg and enjoyed a career with Fannon Petroleum.
In death, Chet showed the same courage, integrity and grace that had been the hallmarks of his life. He is remembered with love and missed with heartache by his wife Kate, his daughter Kingsley and son Chester; parents Bill and Mary Frances Fannon; sisters and their husbands, Beth and Jimmy Swindler and Heather and Daron Young; nieces Addie Swindler, Ellie Young, and Claire Young; and nephew Trey Swindler; and beloved in-laws, Howard and Gloria Armfield.
A memorial service will be held on Thursday, Dec. 8 at 11 a.m. at Trinity Episcopal Church in Upperville, Va. Family and friends are invited to gather for remembrances at the Middleburg Tennis Club after the funeral service. In lieu of flowers, donations can be made in Chet's memory to the United Network for Organ Sharing (UNOS) at 700 N. 4th Street, Richmond, VA 23219 or at www.unos.org.