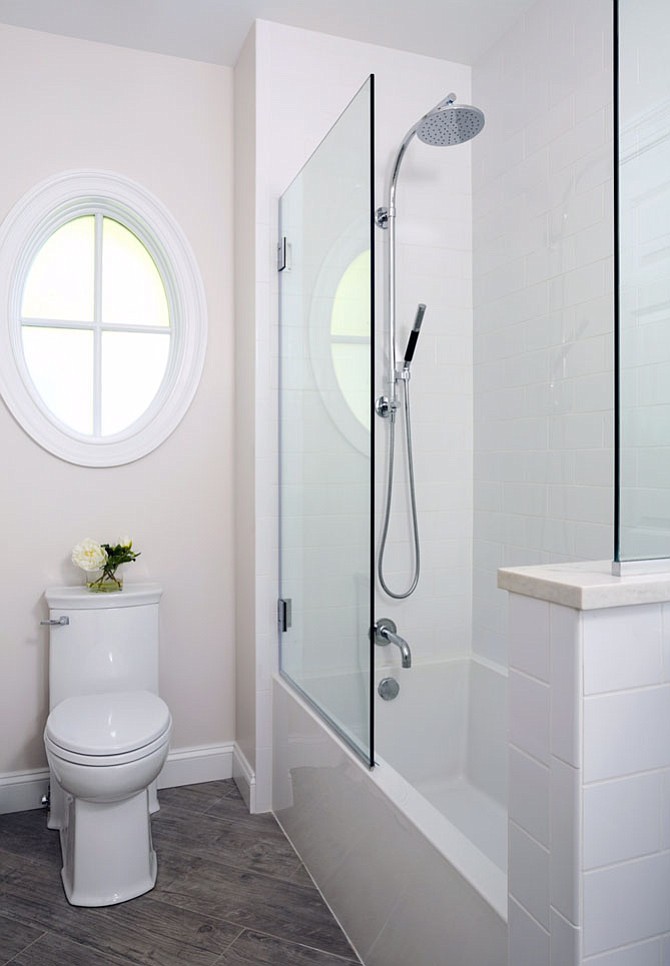 Shortly before Sheila and Brian Boyle decided to sell their Potomac, Md. home, they took a look around and decided it needed updating. The couple, whose daughter had recently left for college, were planning to downsize and didn't want their home to linger on the market.
"We built the house in 2001 and it needed updating, particularly the bathrooms," said Sheila. "When we built it, I put in builder grade materials that didn't match the rest of the house, which is much grander."
"We were going for a modern look, transitional with traditional elements, not full-on modern." — Sheila Boyle
When overhauling the home's five bathrooms, the couple started with the basement and worked upward to the second floor. Their goal was to create modern but timeless spaces that would appeal to a wide pool of potential buyers.

"We were going for a modern look, transitional with traditional elements, not full-on modern," said Sheila Boyle. "We wanted the look to be classic."
The Boyles enlisted the help of Samantha Klickna of Case Design/Remodeling, Inc. The basement powder room was transformed from a generic space to one that is rustic but stylish. The look was achieved with porcelain tile flooring that resembles wooden planks and complements the industrial look of the sconces and mirror.

The powder room on the first floor includes herringbone pattern tile flooring. The same tile was used on one of the walls in the space. A dark wood vanity warms the room and was chosen to mimic a piece of furniture.
"One of the challenges was putting the different elements, like the sizes and patterns of tiles, in the right place to create balance," said Klickna. "With the herringbone pattern, for example, we had to make sure we using the right amount without making it look too busy."
The design team then opened a wall that divided the vanity from the tub and toilet in the Jack-and-Jill bathroom on the second floor, allowing an abundance of light to flow into the space. The space now has a tailored look, says Klickna, and includes an inset vanity, stone ledge, mirror and diagonal wood porcelain plank floor.
"The Jack-and-Jill bathroom wasn't functional or easy to use," said Sheila. "It was too small a space to have an interior wall, so we opened it up and put in lots of glass."
A dark blue vanity in another guest bathroom on the second floor contrasts with the herringbone wall tile, which is a focal point in the space.
"After our house was remodeled and updated, we put it on the market," said Sheila Boyle. "It was under contract in three days in an area where homes don't move very quickly. We attribute a lot of that success to the renovations."