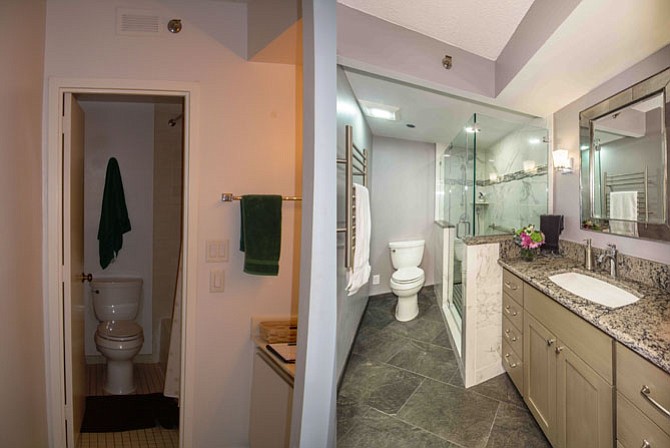 Approaching retirement, Kathleen David and her husband decided it was time to sell their multi-level townhouse and find a suitable one-level living option. The plan was a condominium that could be purchased at a favorable price and upgraded within a budget.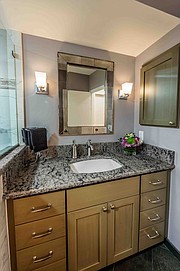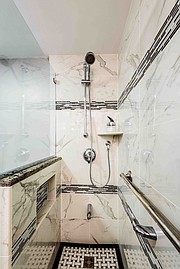 Accustomed to urban living, the couple mainly wanted freedom from stairs, available parking, and a spot for a favorite China cabinet.
"We were quite satisfied with our choice," David said of the 1,300-square-foot unit conveniently situated in an 11-story, 30-year-old Crystal City complex. "After we had been in residence for about a year, we started looking for contractors to help us upgrade the master bath, which was terribly dated."
What came as a surprise as interviews got under way, though, was how few contractors were willing, or able, to work in a condominium.
"There are lots of rules and restrictions," David said. "Eventually, we learned that remodeling a room in a condo can take 20-30 percent longer than it takes to a complete a comparable project in a single family home. Several well-known firms wouldn't even meet with us."
As such, Sarah Wolf at Foster Remodeling Solutions was a breath of fresh air.
"We hit it off right away," David said. "She understood condo remodeling challenges completely. She provided relevant, inspired ideas in the first meeting, and the collaboration only improved from there."
So much so, in fact, that the single full bathroom slated for improvement became two, and the interior design ideas grew progressively more sophisticated.
"Condos have always been interesting to me — partly because they require very precise space plans," Wolf said. "In a tight footprint, inches make all the difference and the design effects that add to that crucial sense of spaciousness must be expertly executed. Professionally, it's exhilarating to design out of the picture the apparent limitations in a room — so that only thing an owner is aware of is how attractive the space is, and how well it works."
BEGINNING WITH a "style preferences" photo slide show narrated by David (who had stockpiled ideas for close to a year), Wolf began by grappling with an unyieldingly compact 220 square feet that could not be enlarged in any direction.
Removing a wall between the vanity and tub in the master bathroom, for instance, added just two inches of floor space, yet the half-wall and frameless glass space divider that now surrounds the newly installed walk-in shower offers an open look that previously didn't exist.
More to the point, Wolf's softly textured interior design scheme provides the eye with something to enjoy:
Oversized (12 inch by 14 inch) porcelain tile in the shower glazed to resemble soft white marble;
Parallel bands of small-scale glass mosaic embedded in the shower walls at eye- and waist- level. The color accentuates the gray tones in the floor tile;
Accent tiles capping the low-wall around the tub visually unify the rear of the room with the front-facing vanity while concealing grout lines. The effect: narrow spaces now seem much wider;
A black and white art deco-style ceramic basket-weave pattern for the shower also prevents slipping;
A blue-grey-black Cambria quartz countertop color-coordinated with vanity cabinet facings lacquered in a black-brush-applied mushroom gray stain.
Polished chrome plumbing fixtures, likewise, combine with metal surfaces to form a bright, reflective surface which is, in turn, offset by a charcoal gray porcelain tile streaked with white veining.
To heighten the room's visual rhythm, Wolf and team installed the 12" x 24" tiles diagonally across the floor from front to back.
On the walls, soft blue-gray paint highlights reflected blue flecks in the countertops, a counterbalance to the bright white ceiling.
"Alternation and balance are important when you're working with small spaces," said Wolf. "In effect, you have a three dimensional canvas formed by walls, floors, ceiling — and each side is a critical part of the whole. When the design statement is well-made, the finished space feels peaceful, pleasant, a room you want to spend time in. Size becomes unimportant."
That said, Wolf applied considerable engineering skill in designing built-ins to satisfy precisely-measured storage requirements.
"There was nothing but an open cabinet under the vanity before," David said. "Sarah designed appropriately-sized drawers, shelves and recessed a storage spaces for everything we use in this space. The new sense of order in both bathrooms has been wonderful."
As an aging-in-place consideration, Wolf found room for an in-shower bench and grab bars. A hand-held shower head on a slide bar adjusts to the owners' different height requirements.
"Everything has been carefully tailored to our needs," said David. "We feel fortunate to have gotten such a winning result."