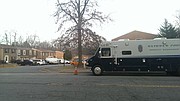 On Dec. 22, Fairfax County Police responded to a call around 8:15 p.m. that Henok G. Yohannes, 22, had been found dead in his home in the 6400 block of Blarney Stone Ct. in Springfield.
The next morning, a homeowner in the 6500 block of Cordwood Ct. in Burke spotted a motionless woman propped against a tree outside their house and called 9-1-1. She was pronounced dead at the scene.
The woman was identified as Kedest Sileshi Simeneh, 22, of the 6400 block of Kroy Drive. in Springfield.
Both deaths have been ruled homicides, police said. Both victims were found with apparent "upper body trauma." Neither killing appears to be random, according to police.
Speaking to reporters and posted live on Facebook, Fairfax County Police representative Officer Monica Meeks said detectives have been able to discover some evidence "that made them feel there appears to be a link," between the two killings.
But, Meeks said, that hasn't been confirmed and the details are part of the investigations at this point.
Meeks added that no suspects are in custody, nor are any being sought at this time.
Cordwood and Blarney Stone Courts are approximately two miles apart, near the intersection of larger roads Lee Chapel and Old Keene Mill, and behind the Rolling Valley Mall.
Police are asking anyone with information about either case to contact them at 703-691-2131 or Crime Solvers electronically by visiting www.fairfaxcrimesolvers.org or text-a-tip by texting "TIP187" plus your message to CRIMES (274637) or by calling 1-866-411-TIPS (8477).