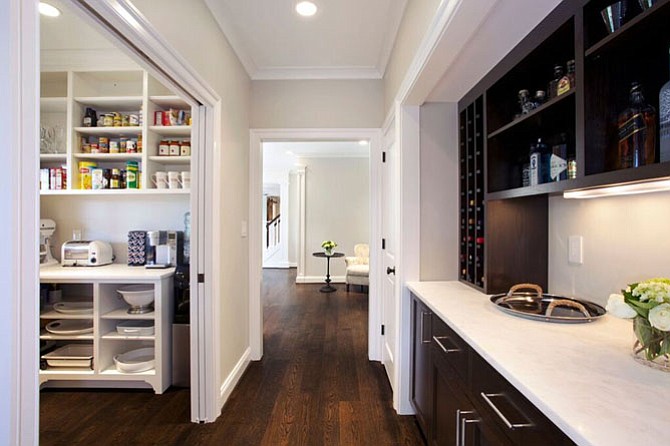 Photo Gallery
Hiding Clutter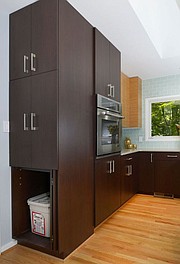 Click Photo for Flash
Wires, cable boxes, soccer cleats, pet bowls and other items are life's necessities, but they can be unsightly and disrupt the aesthetic of an elegant living space. From textured baskets to custom-made furniture, local architects and designers believe that everyday items can be concealed, maintaining the design integrity of a space while incorporating the household items that make daily life run smoothly.
For pet owners, a kitchen renovation is an ideal time to consider adding a custom space for pet bowls and beds. Hidden drawers near the bottom of a kitchen cabinet can keep pet supplies out of sight.
"When designing kitchens and baths, we always consider the best ways to store essentials in a neat, aesthetically pleasing way."

— Jim Rill, Rill Architects
"When designing kitchens and baths, we always consider the best ways to store essentials in a neat, aesthetically pleasing way," said Jim Rill, principal of Rill Architects in Bethesda, Md.
The kitchen is also an ideal room for carving out storage space for electronics and charging stations. "Add an outlet to a small drawer in the kitchen for charging phones so the cords … are not all over the countertop," said Michael Winn, principal of Winn Design Build in Falls Church. "Use flip, pop-up and other types of hidden outlets in kitchen countertops, like those used in some offices."

Winn says outlets can be hidden in spaces such as fake drawer fronts, under cabinet lighting or a countertop edge. "Use a built-in wireless phone charger on a table," he said. "The Holy Grail is wireless electricity. It's not a stretch to imagine that the homes we'll be building a decade or so from now will have this technology."
Interior designer Molly Bruno, owner of Molly Bruno Interiors, suggests choosing one area as the "hot zone" for high-tech devices. "A specific place where your family's phones, iPads and tablets can all charge together. A central spot is key … someplace away from bedrooms, possibly a corner of the kitchen or a designated tray on your desk."
Mudrooms have evolved into an essential space for inclusion in home design, says Rill. "[They] provide a drop-off spot for coats, hats, keys, and more when entering a home and [are] often hidden from view," he said.
Interspersing closed storage with open is a design strategy that Bruce Wentworth, president of Wentworth, Inc. uses to hide frequently used household products. "Closed storage to conceal the necessities of life that are not always so attractive and open shelving to display personal treasures and books," he said.
From soccer cleats and shin guards to basketballs, corralling clutter becomes less daunting with textured baskets, says Bruno. "Pottery Barn's beachcomber baskets are great placed at the end of a couch for extra blankets and pillows or by the back door for shoes or sporting equipment."
These also work in a linen closet or bathroom. "Roll up several clean towels, place them vertically in the basket and you'll have fresh towels at the ready" for family and guests.