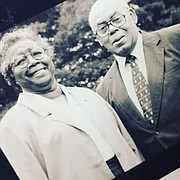 Potomac lost one of its most devoted community activists when lifelong Scotland resident Bette Thompson died last week. She was 80.
Thompson will be remembered for a lifetime of local activism, including her role in modernizing Scotland from an undeveloped rural patchwork of homes without running water, and her years-long effort to build a new community center in the neighborhood.
"Cousin Bette, she was a trooper," said Scotland resident Patricia Mason. "She was an inspiration to us … for fighting for what you believe in."
Thompson had been in declining health since suffering a stroke last year, said Mason, but she came home recently after recovering in a nursing home, intent on being at home for her final days. Her family made special arrangements to bring her to church at Scotland A.M.E. Zion Church in late 2015, Mason said, and, though she couldn't speak, Thompson's trademark smile was evidence to all that she was happy to be there.
"That smile," Mason said. "She always had that smile."
Leo Thompson, Bette's son, said that in the days since his mother died the family has learned even more of just how active and inspirational their mother was, fielding condolences from across the country and discovering records of meetings with state legislators and a letter of commendation from former Gov. Martin O'Malley.
"She was just a tremendous leader in the community and she quietly did whatever she did to make people's lives better, and she never stood out to say 'This is what I did.'"
— The Rev. Pearl Selby, Associate Pastor, Scotland A.M.E. Zion Church,
Thompson's work focused heavily on the community in which she spent her entire life. Scotland remained largely unchanged from its founding by ex-slaves in the 1880s until the 1960s. Thompson used to recall what it was like running through grassy fields to her friends' homes, and had fond memories of summers spent swimming in impromptu ponds when the local youngsters stopped up a creek. But as Potomac was built up around Scotland and residents began selling their homes to developers, an effort began to modernize Scotland as well. Thompson was part of that group, called Save Our Scotland, that eventually worked with local and federal officials to build an enclave of low- to moderate-income housing units that still stand today.
Thompson, or Miss Bette, as she was often called by friends and neighbors, continued her activism, serving on local boards and committees and raising her family of five children with her husband Paul. She led by example and wielded her influence with a soft-spoken, even-keeled demeanor. She welcomed outsiders not just into the community, but into her home, and though she was proud to celebrate her community she never shied away from discussing tough issues either, something her son, Leo, said he was particularly proud of.
"She was willing to talk about comfortable things, as well as uncomfortable things and things of that nature," Leo Thompson said.
One thing she did not talk about, said the Rev. Pearl Selby, an associate pastor at Scotland A.M.E. Zion Church, was herself.
"She was just a tremendous leader in the community and she quietly did whatever she did to make people's lives better, and she never stood out to say 'This is what I did,'" said Selby. "She just never wanted outward recognition. She only wanted the satisfaction that it was done and that she had made a difference in the lives of people."
In the late 1990s Bette Thompson began the fight to rebuild the Scotland Community Center, which had become the hub of the modern Scotland community, but had also become outdated and undersized for its various needs. The effort to build a new community center was a start-and-stop trial that included what Thompson felt were broken promises from Montgomery County officials.
With the help of Action in Montgomery (AIM), a faith-based non-profit organization, the county in 2008 granted funds to rebuild the Scotland Community Center. Ever soft-spoken and understated, Thompson downplayed her efforts to The Almanac after learning of the approved funding.
"Oh, I just stuck with it," Thompson said then. "I just said, 'This can't be.' They promised us this stuff, now how can they say no? But we just stuck with it."
The new Scotland Community Center was completed in 2014, and the county honored Thompson by naming the new facility the Bette Carol Thompson Scotland Neighborhood Recreation Center.
It was an appropriate action, and just one of many ways that Thompson's memory will continue to live on in Scotland and beyond, said Mason.
"I see her good work every day when I go out to my car to go to work and I see her name on that sign."
Born Bette Carol Lefeged, she married Paul Thompson in 1956; the two were married until Paul died in 2012. Leo said his mother's family name was originally Leftwich during slavery, but had changed over the generations to become Lefeged. As active as Thompson was in the community, her passion for helping others extended to her personal life as well when the Thompsons adopted two boys into their family after each of their mothers died, leaving them without parents.
Leo Thompson said that he and his sister, Janet, were at their mother's bedside when she died. Bette Carol Thompson is survived by five children — her sons, Paul, Jr.; Leo and Everett; and her daughters Janet Ross and Patricia Warren — as well as her two adopted sons, Ben Boyd and James McLane, and 11 grandchildren and nine great grandchildren.
A viewing will be held for at Scotland A.M.E. Zion Church on Thursday, Feb. 11 from 7 to 9 p.m. Details for a memorial service are still being arranged as the family looks for a location large enough to handle what is expected to be a large number of attendants.