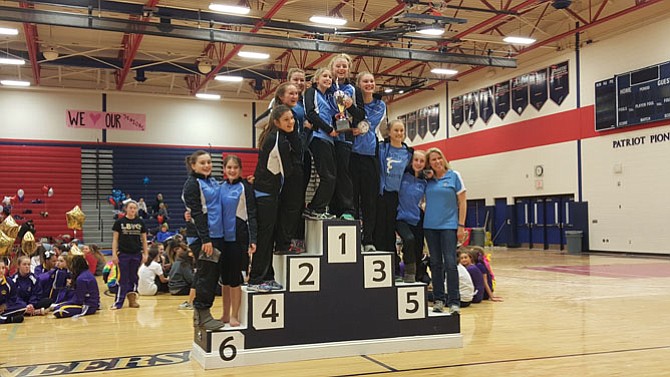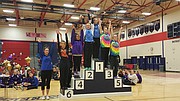 It didn't take long for the Yorktown gymnastics team to face adversity at regionals.
The Patriots were competing on floor during the first rotation when freshman Julia Hays, one of Yorktown's top performers during the season, encountered a problem: the CD containing the music for her routine wasn't working.
"I was kind of confused," Hays said. "I didn't know what to do."Hays, the last Yorktown gymnast scheduled to perform on floor, had a choice: go through her routine with no music and receive a one-point deduction, or try again later in the meet.
Stuck in a potentially stressful situation, Hays kept a cool head and opted to go through her routine later in the meet. After the third rotation, Hays headed from bars back over to floor and, using a video on her mom's phone as the music source for her routine, put forth a performance that would eventually have her standing on top of the medal stand.
"She handled it really well," teammate Juliette Mitrovich said. "She's one of the calmest competitors I've ever met. I don't how she does it, but I think she did really well."
Hays finished first on floor, beam and all-around, and helped Yorktown capture the team title during the 6A North region championship meet on Feb. 13 at Patriot High School.
Hays finished with an all-around score of 37.65, with Mitrovich placing second (37.475). Hays scored 9.775 on beam and 9.55 on floor, despite less-than-ideal circumstances.
"She took it in stride like everything else," Yorktown head coach Joanne Price said. "She offered to compete with no music and found out that was going to deduct her a full point, so we went another route. They told her she could compete again later in the meet and she said a couple of times, 'I can do it after beam' or 'I can do it after bars.' She was ready and willing to go whenever. When we decided it was best she did it and nailed it."
Yorktown produced a team score of 146.05 and qualified for states. West Springfield finished runner-up (143.575) and earned the other state tournament berth.
Defending state champion McLean finished third with a score of 142.625, followed by Battlefield (141.25), Lake Braddock (139.625), Osbourn Park (139.625), Chantilly (133.525) and Oakton (130.225).
"It's just so exciting to feel like all of their hard work and everything paid off," Price said. "They hit the routines the way they needed to and the scores landed where we needed them to be."
Yorktown had a talented team each of the last two seasons but failed to qualify for regionals due to the competitiveness of Conference 6. The Patriots finished behind McLean and Washington-Lee each year and only the top two teams from each conference advance.
This year, Yorktown won the Conference 6 championship and followed it with a region title.
"It's the greatest feeling ever," Mitrovich said. "Everyone always screams when they win and I never really understood what that was like until now. It's really amazing."
Along with her runner-up finish in all-around, Mitrovich placed second on beam (9.725), tied for third on floor (9.5), finished fourth on bars (9.05), and tied for ninth on vault (9.2).
"I think I knocked it out of the park," she said.Yorktown's Olivia Zavrel placed third on bars with a score of 9.3.
Marisa Daugherty and Courtney Frisk also competed for the Patriots.
A scheduling conflict left several Yorktown gymnasts with a decision to make during the season. Some of the Patriots are also members of the Arlington Aerials club team, which had a competition in Florida scheduled the same day as the 6A North region meet. With no guarantee the team would even qualify for regionals, those with a choice opted to compete for their high school team.
"We knew as a team we had a very good shot of making it to regionals," Zavrel said. "For us, and most of the McLean girls, we all decided it was a priority for us to come here because if we didn't come we were never going to make it to states and that's just a bummer."
Next up for Yorktown is the state meet. The team competition is scheduled for Friday, Feb. 19 at Kellam High School in Virginia Beach. The individual competition is Feb. 20.
"We have high hopes, of course," Price said. "Tonight, we had a couple of routines that fell short, they weren't as good as last week, and then a couple that were better. ... I think it was a lesson learned today that this takes a team and I think going into next week we'll have the same attitude of what can we all do to help that team score ...."