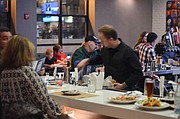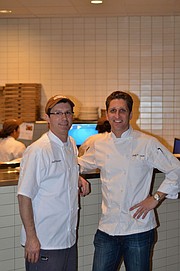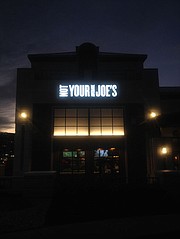 The Reston Spectrum at 1845 Fountain Drive now hosts Not Your Average Joe's, a Massachusetts-based restaurant chain, known for stone-hearth pizzas, salads, unique burger combos and other casual fare.
"I think this will be a place where couples and families can get together without impeding on each other's fun," said Reston resident and athletic coach Chip Hulbert. Hulbert was impressed by the restaurant's bar, which welcomes sports junkies and families. Reston is establishing a reputation as a dining location, as Reston Town Center has over 15 restaurants and cafes. "Coming to Reston, that was a good move," said Tom Boone, who has dined at the Not Your Average Joe's in Leesburg. The Reston Spectrum is about one-quarter of a mile from the future Silver Line Reston Parkway Metro Station.
Not Your Average Joe's first opened in 1994. Owner and founder Steve Silverstein has spent the past several months reviewing and inspecting progress of what he refers to as his newest baby. "This place hires good people, they got a good formula," said Megan Ortolan, who attended a soft opening event at Reston with her husband. The restaurant will employ 102 staff, including part time and full time employees.
"We know there is competition, and we welcome it," said Joe Becker, general manager for the Reston NYA Joe's. Becker ran the NYA Joe's restaurant at Leesburg for five years. The expansive 7,300 square-foot restaurant in Reston will seat 218, with a full bar and two seasonal outdoor patios offering an additional 100 seats. A private dining space accommodates 22 seated guests. From the menu, Becker enjoys the Vietnamese Salmon, as well as the Spaghetti Squash Bolognese. The Bolognese sauce gets its full-bodied flavor from mushrooms instead of meat, and uses spaghetti squash in place of conventional spaghetti. "It is such a great dish and has less than 500 calories," said Becker.
Executive chef Jeff Tenner joined Silverstein in the development of the new Reston location. "We are a globally inspired restaurant," said Tenner, noting that the menu changes with the season. The Reston location will open with a winter menu, which includes entrees such as Romesco Rockfish and Turkey Meatball Strozzapreti. The meatballs are served with mint-parsley pesto, roasted tomatoes and artichoke hearts. Tenner highlights the restaurant's Molasses Braised Pork Shank. "It is a great example of winter comfort food," said Tenner.
Desserts at the restaurant include carrot cake, key lime pie, and peanut butter thing - peanut butter and chocolate chunks folded into vanilla ice cream, rolled in cookie crumbs. Staff and visitors have been impressed with the redesign work at the new Reston restaurant. "This place has a fine finish to it," said bar manager Michael Reyes. The Reston location features an open-kitchen with a wood-burning oven in a bright and polished atmosphere.
Diners can expect an extensive wine list, with cocktails and a variety of beers.
In keeping with the brand's commitment to the communities in which it serves, Not Your Average Joe's will partner with local nonprofit Cornerstones during its Grand Opening. Proceeds raised during the two-day preview celebrations will be donated to Cornerstones, which is dedicated to providing support and advocacy for people in need of food, shelter, affordable housing and other human services. Not Your Average Joe's will continue to support Cornerstones through January 2016 with its ongoing "Not Your Average Cause" program, which provides 15 percent of proceeds to a selected cause every Tuesday.
"The food was fantastic," said Joshua Gravis, an employee at the Davelle Clothiers at Reston Town Center. Gravis spent some of his New Year's Eve dining at Not Your Average Joe's. "Joe's really focuses on creating an experience for our guests," said bartender Courtney Ashby. When the restaurant closed for the night, some of the staff walked to Reston Town Center to welcome in the new year. More information on Not Your Average Joe's is available at www.notyouraveragejoes.com.