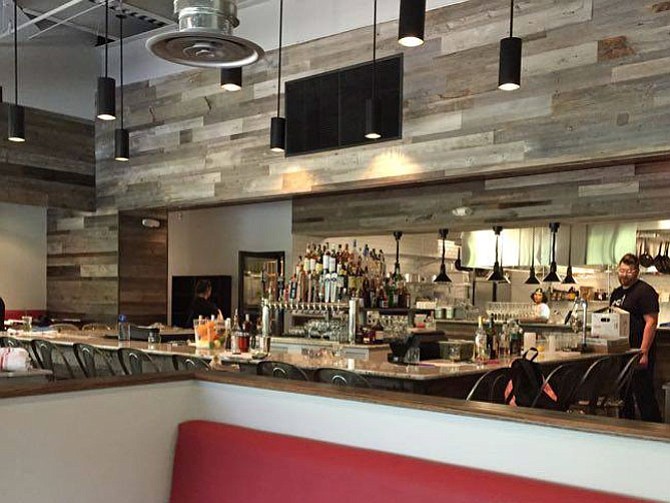 With summer ending, business will be back to usual once schools return to session. There will be some changes to the dining selection, including the anticipated arrival of the restaurant Red's Table. Co-owner Ryan Tracy, one of three brothers and Reston natives who own and operate the restaurant, stated the official opening will be Labor Day, Monday, Sept. 7. "We and our neighbors have have been eagerly awaiting for this moment," said co-owner John Jarecki. The restaurant will offer local steaks, and fresh fish at its location by Lake Thoreau at 11150 South Lakes Drive.
Lake Anne Coffee House changes ownership next week and will close for renovations into November. Lake Anne residents Eve Thompson and husband Rick purchased the coffee house in July. Beginning Sept. 12, the coffee house patio will be open on Saturday mornings during the Reston Farmers Market and Craft Market. Residents can try new coffee blends from Manassas-based Monument Coffee Roasters and pastries from Sterling's Baguette Republic. "We will have locally roasted coffee, pastries, and look into expanding our menu over time. We are really excited and think it is a great location," said Eve Thompson.
A new restaurant will be taking the former location of Macaroni Grill in Reston. Not Your Average Joe's, a Massachusetts-based restaurant chain, has signed a lease for 1845 Fountain Drive in Reston. Permits have been filed for renovations. Not Your Average Joe's has 20 locations including Bethesda, Gaithersburg, Leesburg and Woodbridge. The menu was directed by Executive Chef Jeff Tenner, with culinary roots from New England. No opening date has been announced. The Macaroni Grill closed suddenly in December.
Hispanic Heritage Month begins Sept. 15 and continues to Oct. 15. Both restaurants Barcelona Wine Bar and Bartaco have opened at Reston The Avant luxury residential building for several months, and offer different takes on Hispanic cuisine. The beach-themed Bartaco offers a Mexican menu of creative tacos and rice bowls, while Barcelona Wine Bar is known for its small plates and tapas-centric menu.
Not all business developments have been food focused. Random Words Marketing Group, a new member of the Greater Reston Chamber of Commerce, invites the broader business community to a ribbon cutting event Thursday, Sept. 3 at their office at 11710 Plaza America, Suite 2000. Food and drinks will be served in the second floor salon. The mission of Random Words Marketing is to provide results-oriented advertising, public relations and marketing.
Kendra Scott, the national upscale costume jewelry store with expansion plans in the Washington, D.C., area, expects to open its Reston Town Center store in early December. In June, Kendra Scott filed permits at 11900 Market Street. The line launched in Texas in 2002 and is sold at department stores such as Nordstrom and Kendra Scott nationwide. The Reston store will be the third of the four area stores that will open soon.
Wednesday, Sept. 9, Chipotle will try to hire 4,000 new employees across the country with what company is calling "National Career Day." Management at the burrito chain wants to find 4,000 new crew members to boost its employee ranks by 7 percent. Places which are hiring will include sites in Northern Virginia such as Ashburn.
On Aug. 21, Chick-fil-A at 12160 Sunset Hills Road temporarily shut its doors for a major remodeling project. According to franchise owner David Kim the restaurant will reopen in October. Reston's Chick-fil-A has been very supportive of local teams and school fundraisers. On the franchise website, Kim states the store will reopen "better than ever" and with a special grand reopening event.