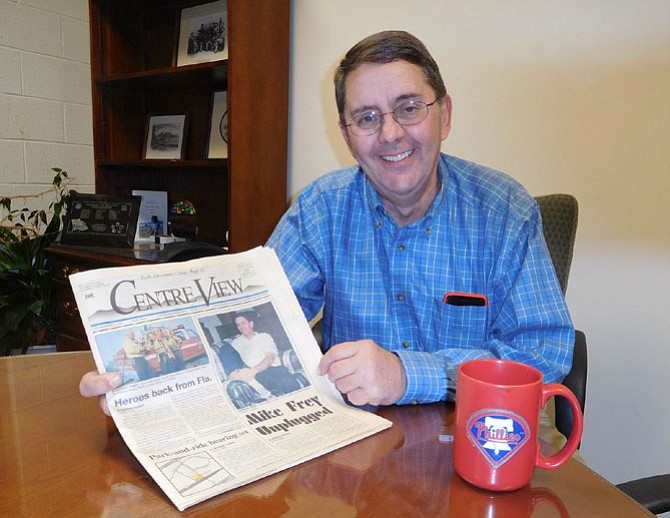 "But what I really loved were the people; I'll miss those relationships, but I'll still see many of them. I'll still be here in Centreville and go to Westfield and Centreville high games."

— Michael Frey
Fairfax County budget shortfalls? Ribbon-cuttings to attend? Meetings between eager developers and angry residents? No longer Michael Frey's personal problems.
That's because — for the first time in nearly four decades — his time is finally his own. After serving 37 years with the county, most notably 24 years as the Sully District's first and only supervisor, he retired on Dec. 31.
Frey's career started in June 1978 when he began working for former county Board of Supervisors Chairman Jack Herrity. That led to a job with former Springfield District Supervisor Elaine McConnell and, eventually, six terms as Sully's supervisor.
"I was 21 and still in college at AU [American University] when I started working for Jack," said Frey. "If you'd have told me then that I'd stay for 37 years, I'd have said, 'You're nuts.'"
So what's he going to do with his newfound freedom? "For awhile, I'm figuring on doing some fun things," said the Pennsylvania native and rabid Philadelphia Phillies baseball fan. "I'm going to Clearwater, Fla., in late February-early March for Phillies' spring training. I couldn't before because of the budget, but I've always wanted to do that. My real life's goal is to be the Phillie Phanatic [team mascot]."
Saying his passions are animals, sports and history, Frey will continue being interested in Centreville's history and its preservation. He also wants to help grow the Friends of the Fairfax County Animal Shelter via charitable donations.
And, he said, "I'm going to help [SYA President] Gary Flather begin phase two of the Fields of Dreams [youth sports complex in Centreville]. We're dealing with the infrastructure problems so more new fields can be developed, and the fundraising. I've been a part of it from day one, so to come at it from a different perspective would be a lot of fun."
Traveling is also on Frey's agenda. At his last Board of Supervisors meeting, Dec. 8, he received a plaque and a gift card for an international group of bed and breakfasts. So, he said, "Next summer, I'm going to Africa — the Serengeti, Tanzania and Kenya. I also plan to visit the Galapagos."
"And I want to go back to Alaska — the Katmai, a coastal area in south-central Alaska," he continued. "They say there are more grizzly bears there than anywhere else in the world. And because they've never been hunted, they have no fear or antagonism; you can get close and get some good pictures."
SHAPING THE COMMUNITY
Reflecting on his career as supervisor, Frey said it's been "fun shaping the community and the development we've experienced. Sully was created after the 1990 census and we started with 94,000 people. By 2000, we were at about 147,000 so, during my first decade, there was huge growth. There was open space, so it was going to develop; but I'm more proud of filling it in with public amenities."
He said the county budget "was never good, so it was a fight every step of the way trying to get the money to build Westfield High, Colin Powell Elementary and Stone, Carson and Liberty middle schools. Deer Park Elementary was the first school that [former Sully School Board Representative] Gary Reese and I built. SYA was using the site for Little League fields, but it belonged to the school system. And then, Gary and I got the school system to build the field complex for SYA at Cub Run Elementary."
Frey said schools were in the greatest demand because of the population growth. "But with it also came the need for roads, fields, gyms and health services," he added. "We had no substance-abuse centers in Chantilly or mental-health facilities. And we had no police station here until 2003, just the Fair Oaks station."
For years, Centreville's only fire station was Station 17; but during Frey's tenure, West Centreville's Station 38 was constructed. His office contained a couple dozen hard hats and shovels from some of the many groundbreakings in which he participated. And for Station 38, said Frey, "I remember [former Supervisors Chairman] Kate Hanley uncoupling a fire hose to dedicate it, instead of cutting a ribbon."
He also recalled buying the land resulting in both the Cub Run Rec Center and Westfield High, and and he's always had a special bond with that school. "Westfield is the only high school physically in the Sully District," said Frey. "And the vast majority of its students are Sully kids, so it's my school."
So it particularly touched him when, during halftime of a Bulldog football game right before he retired, the school gave him a letterman's jacket with his name on it. "They said, 'You've earned your letter for your support of Westfield,'" said Frey. "It's so humbling; I loved every minute of working with the school and going to their games. And to have them give me something personalized like that means a lot to me."
PARKS AND HOMES
"I'm also hugely proud of Sully Woodlands — putting together over 2,000 acres of protected, permanent parkland," he said. Frey was the supervisor who convinced the board to preserve this land as green, open space. "I told them someday people will say how wise and farsighted we were to save this land," said Frey. "It took us seven or eight years to acquire it all. But it resulted in five, major parks — some for active recreation, but more than 80 percent for passive uses. There are trails throughout, and the rec center has a naturalist that uses some of that land for educational programs."
When he first started as supervisor in 1992, Centreville's Stone Road shopping center was newly built and Centreville Square I and II had just opened. And with much of this area zoned for residential density, townhouses and apartments sprang up throughout the late '80s and the '90s.
"When you're living in a growth area, people come here from all parts of the country and don't know the long-range plans," said Frey. "So they'd tell me, 'My children's schools are crowded and the roads are congested; how could you possibly consider building more?' It was a challenge my whole career."
"I spent 15 years doing Land-Use 101 courses for all the new communities," he said. "We didn't have the power to stop development and you can't stop people from selling their land, so I got a lot of bruises. But I also made so many friends through development, working through things with the residents."
Crediting former U.S. Sen. John Warner and former U.S. Rep. Frank Wolf for their efforts in bringing the Udvar-Hazy Center to Chantilly, Frey called it "one of the most thrilling things to be involved with."
RECALLING TRAGEDY
However, tragedy struck during his last two decades as supervisor. On May 8, 2006, a mentally ill teen shot and killed two Sully police officers, Det. Vicky Armel and MPO Mike Garbarino.
"Nothing was harder than losing them," said Frey. "That will never be far from my mind. And I told the crowd at the first vigil I've never been prouder to be the Sully supervisor than that evening; more than 1,000 people turned out. I'll also never forget the day after the shooting. I pulled into the station and saw a huge banner from Westfield High, signed by the students and saying, 'Sully P.D., we love you.'"
And when the police officers on duty at the time of the shooting eventually returned to work, Sully residents came to the station at 3 a.m. and cooked breakfast for their whole shift. Said Frey: "To see that kind of support was phenomenal."
Then 11 months later was the Virginia Tech tragedy in which Westfield graduates Reema Samaha and Erin Peterson were killed. "There was a prayer vigil at Tech, including at least 25 Sully police officers," said Frey. "They said, 'Westfield students were there for us and we want to be there for them.'"
Also during his tenure, the Centreville Historic District grew from 18 acres to 82, and the county bought Mount Gilead and the Sears/Spindle house and fixed up both homes. "And now, we're beginning a sign system and walking tours there," said Frey.
One of his toughest accomplishments was the establishment of the Centreville Labor Resource Center for the community's day laborers, which he supported. "A fair amount of people were against it initially, but it was an obvious human need," he said. "And I'm thrilled with the way it turned out."
PROTECTING ANIMALS
Frey's also pleased with the creation of a dog park here, plus a no-tethering law and vast improvements at the county animal shelter. "When I first joined the board, it didn't care about humane treatment of animals, and this bothered me," he said. "It took lots of amazing people, including veterinarian and shelter volunteer Susan Hall, to make progress at the shelter and fight for better conditions for the animals." So he was proud when, two summers ago, the shelter received special recognition from the Humane Society of the U.S.
One year, Frey even got dog runs for the shelter for $21,000 in the county budget. "But there's more we can do," he said. "And now I'll advocate for the shelter without the rules and regulations of a supervisor."
He also plans to golf and read and keep in touch with his former staff. "I've loved what I've been doing, so it'll be an adjustment," he said. "But what I really loved were the people; I'll miss those relationships, but I'll still see many of them. I'll still be here in Centreville and go to Westfield and Centreville high games."
Frey said his successor, Kathy Smith, will do fine. "She's a good person, a quick learner and a great listener," he said. "So I'm confident Sully's in good hands."
Meanwhile, he said, "I'll still be involved with the Historic District, local sports and the Friends of the Animal Shelter — I just won't have to deal with budgets. I'm going to do what everybody else does — sit in my kitchen with a cup of coffee and bitch about the traffic."