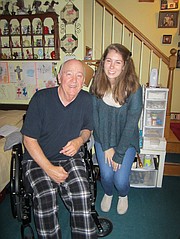 Robert Morrison's been waiting and hoping. It's been a long time since he's seen his beloved Redskins perform so well. Sadly, the playoff loss ended their season, but then he's used to the team's ups and downs. When he first moved into his Alexandria home with his wife, it was an up year, as the Redskins went to the Super Bowl led by Quarterback Bill Kilmer and Coach George Allen.
That was 44 years ago and much has changed, but his passion for football and the Redskins has remained the same. Robert was originally from Lexington, Ky., and relocated to Alexandria after serving in Vietnam, living at first with his brother. That's where he met his wife … through one of his brother's neighbors.
Today, he sits in his home adorned with Redskins memorabilia — including his coveted helmet mailbox — and filled with photos of his family and life. He reminisces about his neighbors and feels lucky to call them his friends. He remembers how they would all play horseshoes into the wee hours of the night in a nearby grass field, which is now paved over into a parking lot.
Back then, Robert worked as a carpet cleaner and his wife worked at several stores in the area, which are now long gone, and cleaned houses with her sister, and babysits — which she continues to do even now. Together, they made a living, raised a family, and maintained their home. Over the years though, this has become more difficult for Robert, especially after he suffered a stroke, which decreased his mobility.
Shortly after, he got introduced to Rebuilding Together Alexandria, which works to preserve housing affordability and revitalize the Alexandria community by providing free home repairs. After doing an audit of his home, we made modifications to help them both navigate and stay in their home. Our volunteers replaced and extended a handrail in the living room and basement, weather-stripped the front door, painted the ceiling in kitchen, added pavers near the garbage bins for better access, and more.
These type of upgrades are important since most of our clients are homeowners who live near the poverty level. By improving their housing conditions, we can help them remain active in their neighborhood and in turn help our city remain economically, socially and culturally diverse. For Robert, this means he can spend less time worrying about maintaining his home and more time focusing on the Redskins' next season.
If you know someone like Robert who could benefit from our services, we encourage you to introduce them to us. To learn more, visit www.rebuildingtogetheralex.org or call 703-836-1021.