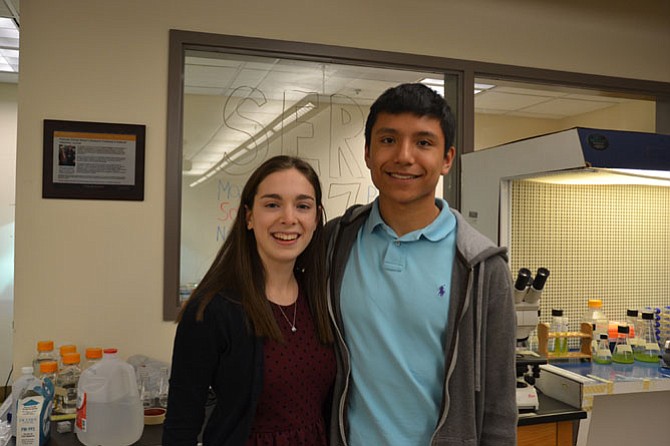 Potomac School seniors Madeline Dubelier and Gianmarco Terrones have been named semifinalists in the Intel Science Talent Search 2016, a prestigious pre-college science and math competition. They are two of only 300 semifinalists selected from a pool of more than 1,750 entrants nationwide.
As part of Potomac's Science and Engineering Research Center (SERC) program, Dubelier and Terrones spent the last three years working on their research with university professors, scholars, and Potomac School science teachers. Dr. Isabelle Cohen, their Potomac research advisor, says, "I am thrilled that Madeline and Gianmarco are being recognized for their hard work and perseverance through the ups and downs of their projects. They have impressed me at every turn."
Dubelier was chosen for her work on a robotic hand with touch sensors and double flex technology that allows a user to form a pinch grip. The Massachusetts Institute of Technology's MIT THINK Scholars Program helped Dubelier fund the project, allowing her to acquire many of the components for her prototype. With the funding, she was able to incorporate sensory feedback and remote control into her design, which has potential applications in the surgical field and the defense industry.
Meanwhile, Terrones was selected for his extensive research on desalination. During the last two summers, he worked with his mentor, Dr. Manish Kumar, in a Penn State chemical engineering laboratory, to conduct the necessary tests and experiments for his research. Terrones' findings provide a new approach to examining membrane proteins, previously studied only in their natural cell membranes or in analogous lipids.
For their selection, Dubelier and Terrones each receive a $1,000 award from Intel, with a matching amount presented to The Potomac School. On Jan. 20, Intel will select 40 students as finalists, who will compete for more than $1 million in additional awards.