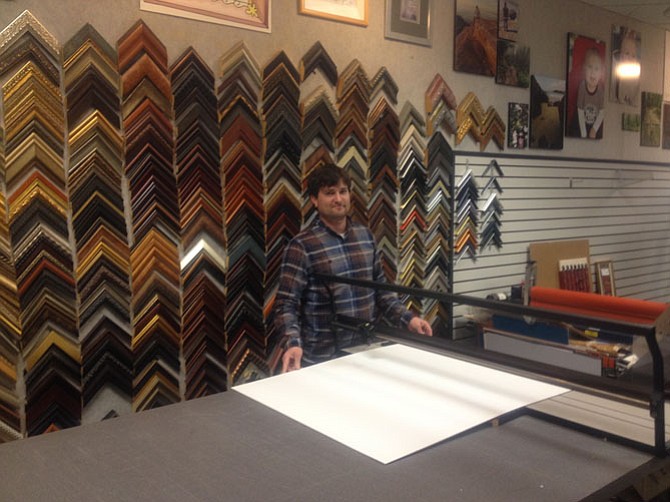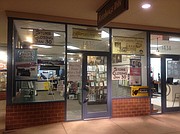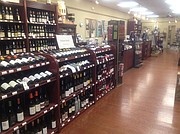 Foto Image located at 1436 North Point Village Center will be closing on Jan. 30. The framing and photography store was unable to negotiate terms to renew their lease in November. Owner Tim Klement commutes to the store from Baltimore, where his wife has a successful dog-walking business. "Come February, I will be walking dogs," chuckles Klement.
While many people take more photos today, because of online social media services there has been a decreased demand for photo prints. "It is a totally viable business, we stuck around, but the hurdle of retail rent is a high one," said Klement. Klement has operated his photography and framing business at Reston since 2003. Foto Image has begun informing customers it will be closing. "We are selling everything, I just sold a glass shelf case, and have more available," said Klement.
"They were always busy. I always see plenty of people come in and out," said Renee Thrasher, an employee at the neighboring Hallmark shop. It is believed that a barbershop will replace Foto Image. "If it can't be outsourced, it may survive," remarked Klement. North Point Village Center is operated by Lerner Retail. "I had prints developed at Foto Image, it is a shame it is closing," said Herndon High School senior Michelle Aber, a greeter at Gregorio's Trattoria, an Italian restaurant located at North Point.
Employees at The Wine Cabinet, a family owned business in operation for 12 years and based at North Point, were surprised Foto Image is closing. In addition to selections of regional wines and beers, The Wine Cabinet offers locally made chocolates. "If you live locally, you should buy locally," said Reston resident Claudia Dittmar, a patron at The Wine Cabinet. In addition to weekend wine tasting events, every Thursday from 4 until 8 p.m. the Wine Cabinet opens a special bottle of wine and offers a highly discounted price.
Lerner Enterprises is a Maryland-based private real estate company developing office, residential, retail and hospitality properties. North Point Village Center is a 134,000 square foot shopping center located on Reston Parkway. Anchored by Giant Food, North Point Village is situated by residential neighborhoods, offering a variety of dining and service-oriented options that cater to Reston residents.

Pet Valu has been issued permits to renovate a storefront which formerly housed an AT&T store at 1422 North Point Village Center. A franchise pet supply store, Pet Valu has a second location at South Lakes Village Center which sells pet food and grooming supplies. Pet Valu stores are located in communities across Canada and the northeastern United States. Other pet supply stores in the area include the PetSmart at The Spectrum, and PetMAC, a nutrition-based pet supply shop located at Lake Anne.
The AT&T store closed in October 2014. This will be Pet Valu's second location in Reston. No opening date has yet been announced. Since 2014, Chick-fil-A has expressed interest in a location at North Point, and Fairfax County Planning Commission has a hearing scheduled for March 16. A former Burger King site at 1494 North Point Village Center has been vacant since 2014.