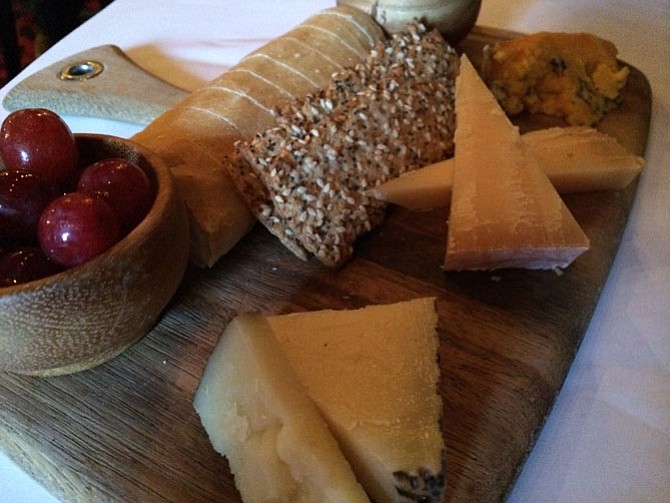 As Alexandrians dig themselves out from their recent string of snow days, Restaurant Week arrives at the perfect time to provide a respite from the shoveling. Here are three eateries worthy of saving a spot for in the coming week.
Restaurant Eve, 110 S. Pitt St.
Long the darling of Old Town fine dining, Eve's got quite a deal in store for Restaurant Week. Whereas many restaurants pick and choose a special tasting menu, Restaurant Eve is allowing diners to concoct their three courses straight from the entire bistro menu.
Relatively new participating in Restaurant Week, it's clear that Eve has hit the ground running. In an age of prix fixe options, Chef Cathal Armstrong and his team may have set the top spinning in the opposite direction, allowing diners to enjoy the freedom of choice in their menu offerings.
Bistro entrée prices generally land in the $35-40 range, so enjoying an entrée plus a first course and dessert for Restaurant Week prices is a treat indeed. Try one of Chef Armstrong's internationally inspired dishes, such as the Jinga Palak, and for a first course, the heirloom beets can't be, well, beat. For a more complete Eve experience, ask the sommelier, Todd Thrasher, for the perfect pairing, or take the bartender up on his offer to make an interesting cocktail from Thrasher's repertoire.
Cheesetique, 2411 Mount Vernon Ave.
Cheesetique is by far a perennial Restaurant Week favorite. Like most of its brethren, it offers a set menu for the week, but its options are hardly limited as a result. A $35 dinner for two gets you and your companion three selections of meats and cheeses from the restaurant's wide array, plus two entrees and a chocolate mousse for the two of you to share.
It's easy to get bogged-down in the entrée selection, and you really can't go wrong. But to ignore the grilled pimiento sandwich would be a crime — its gooey center is offset perfectly by crisp bread, and the side salad makes you feel rather virtuous in the end. Or consider the Mediterranean white bean salad, which is certainly filling (and flavorful) enough for a hearty meal — with a little room to spare for dessert.
A silky chocolate mousse is a perfect way to top off the evening. And with a glass of wine or pint of beer to wash it all down, how can you go wrong?
Trademark, 2080 Jamieson Ave.
Tucked away amid hotels, condos, and the federal courthouse, it's easy to overlook Trademark. But the tavern's Restaurant Week special is sure to win you over. A three-course prix fixe will run you $35 per person -- with drink pairings you'll pay $45 – and the variety of offerings will likely pull you in straightaway.
Give Trademark's winter Caesar a try to start with — the licorice-like taste of Belgian endive blends very nicely with the dish's capers — and then move on to the main course, where you'll find a solid array of options. The butternut squash risotto offers a seasonal take on the rice dish, and you could do worse than the grilled pork chop with sweet potato polenta.
To finish off your meal, you could be "good" and order the cardamom poached pears, or you could go the decadent route and dive headfirst into a Guinness brownie. Either way, you're sure to enjoy a sweet surprise.
Hope Nelson owns and operates the Kitchen Recessionista blog, located at www.kitchenrecessionista.com. Email her any time at hope@kitchenrecessionista.com.