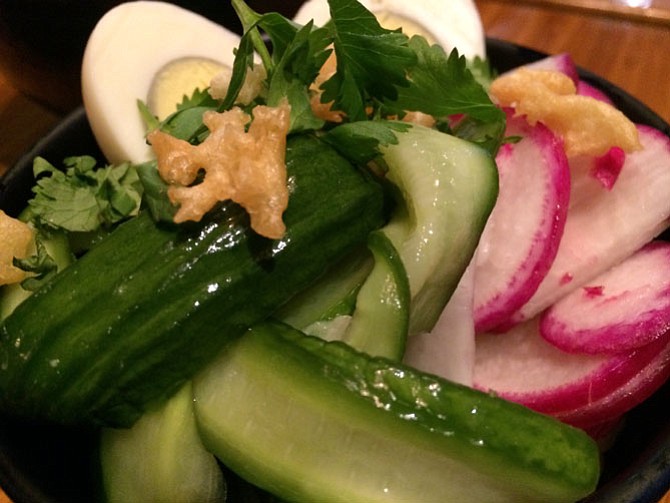 Every year near the end of summer, Alexandria's Restaurant Week offers diners a prix fixe menu at some of the city's best restaurants for a great price — generally, $35 per person or per couple depending on the establishment. Here are some of the standouts from this summer's selections — and some notes on what to try the next time you visit.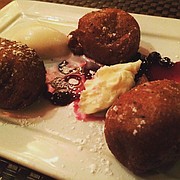 Vermilion, 1120 King St.
If you've been waiting for a chance to hit up this gorgeously apportioned restaurant but always felt the prices were a little rich for the blood, Restaurant Week proves to be a great chance to give Vermilion a test drive. With ample selections to welcome any palate — both carnivores and vegetarians are at home with their menu — this Restaurant Week experience successfully caters to all. The menu presented three options for each course, all of which are worthy of attention. But if you're looking to send your meal over the top, you could do worse than the shrimp and grits, penne pasta, and Vermilion's famous poppyseed fritters (which, one server assured several diners, stays on the regular menu at all times).
Vermilion's tasting menu also paired cocktails, beer, and wine with each course. But if you're looking to order off the main menu, be sure to give the Old Man and the Sea (christened with Old Bay syrup) or, if you're feeling extra-adventurous, the Will You Return (which features green pea puree) a try. You can't go wrong with either.
Cheesetique, 2411 Mount Vernon Ave.
It's easy to feel the festive vibe around you before you even darken the door of this wine-and-cheese shop and restaurant in the heart of Del Ray. Whether you sit outside — which, in nice weather, can warrant a bit of wait, but it's worth it — or in one of the several indoor dining rooms, you're in for a treat.
Cheesetique's Restaurant Week menu gave diners the choice of three selections for a shared cheese board, plus eight entrée options and one dessert (chocolate mousse). The number of tantalizing items on the menu may mean your server will have to come back a couple of times before you're ready, but take all the time you need — this is a big decision. The grilled pimento sandwich offers up a refreshed take on the Southern delicacy, and served with a side of greens, it seems almost virtuous. The mac-n-Cheesetique is also a perennial favorite — and it has more than earned the title.
Del Ray Café, 205 E. Howell Ave.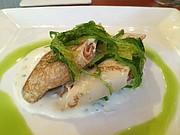 Visiting the Del Ray Café, situated half a block off the main artery of Del Ray, is like coming home. Indeed, the restaurant has put down roots in what used to be a house, and the cozy feeling hasn't gone away in the ensuing years since the structure turned from a homestead to an eatery. The café serves breakfast and lunch, but last week the Restaurant Week dinner menu was in full effect, and diners were the richer for it.
The chilled red pepper and melon soup could change the mind of any cold-soup doubter; the flavors were alternatively spicy and sweet, beckoning diners on with each bite. For an entrée, the hanger steak was hearty and tender, while the red beet risotto provided an ample pop of color to the table. For dessert, you can't go wrong with the vanilla bread pudding — a sweet end to a delightful evening.
Teaism, 682 N. St. Asaph St.
Tucked away in a corner of the Saul Center, across the driveway from Trader Joe's, Teaism is a beacon of calm in a bustling plaza. The warmth of the dining area — low lighting, a blend of traditional tables and upholstered, low-sitting stools — exudes restoration, and the food certainly helps diners along the path to enlightenment.
Teaism sported an incredibly robust Restaurant Week menu, offering some of the eatery's best appetizers, entrees, and desserts for only $17.50 per person. One perennial favorite is the udon noodle salad, a mix of vegetables, udon noodles, a hard-boiled egg, and some tempura "croutons" that is as light and airy as it is hearty and filling. For an entrée, the South Indian vegetable curry is complex, flavorful, and spicy enough to wake you up. And for dessert, don't miss the coconut rice pudding — it's one of the best sweets on their menu.
Hope Nelson owns and operates The Kitchen Recessionista blog, which can be found at www.kitchenrecessionista.com.