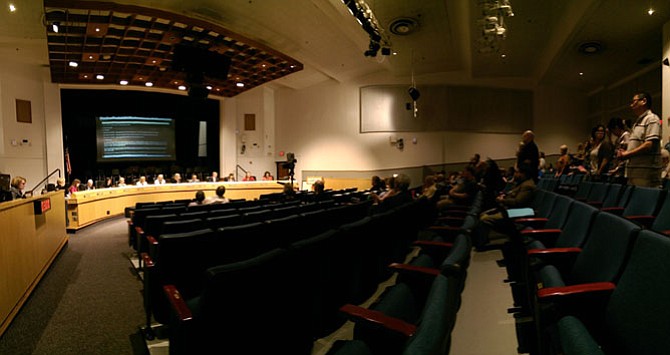 Friday afternoon, July 1, Fairfax County School Board members each received an email containing new operating regulations regarding transgender and gender nonconforming students.
The previous board voted on May 7, 2015, to add "gender identity" to the school system's nondiscrimination policy. They then hired a private consultant to help staff develop regulations for how that policy change would be formally enacted in schools day to day.
At the time, at-large Board member Ryan McElveen asserted that the policy change would effectively not change anything in the way transgender students and employees are treated from a school system standpoint. But the consultant would also review Fairfax County Public Schools practices as compared to best practices in other school systems and the formal guidelines would be reflective of that study as well.
THE SIX TYPED PAGES of guidelines begin with definitions the school system will use when referring to concepts including sex assigned at birth, transgender, transition and gender nonconformity.
They also call for the creation of support teams for students who identify themselves as transgender, transitioning or gender nonconforming, that can involve the parents or guardians, teachers, administrators, school psychologists or other staff members as appropriate.
The support team then develops a plan for how the student can feel most safe when using bathrooms or locker rooms, or participating in school activities and sports.
School Board Chairman Pat Hynes said the new guidelines are regulations as they now stand, not a draft.
"It's the board's role to review them, that's part of our job," Hynes said, "to make sure they comply with our policy."
When the policy change was passed more than a year ago, there was successful follow-on motion calling for the board to review the regulations, as Hynes said. What the motion didn't say was what form that review would take.
According to Hynes, it would be sufficient for members to simply read over the email and sign off. She called the regulations "well done" and "pretty comprehensive."
A second option is for the board to convene a work session and discuss in a more in-depth manner. There could also be a legal advisory meeting for addressing specific legal questions. In the area of transgender regulations, Hynes acknowledges laws are still in flux.
"In my opinion," she said, "this complies with our policy for nondiscrimination — the law, as the law now exists."
If the board members collectively agree the new regulations are not fully in line with the policy, they can direct FCPS Superintendent Karen Garza and staff to amend them.
To decide the nature of the board's review, they initially scheduled a forum on July 14 at Luther Jackson Middle school, around their evening business meeting.
Then on July 12, FCPS spokesperson John Torre said Hynes decided there was sufficient support from other Board and community members to take the regulations to a work session and forego the forum.
Torre said the topic has been added to the July 21 work session, scheduled from 4 to 6 p.m. at the School Board's headquarters, 8115 Gatehouse Road in Falls Church.
In an email, At-Large member Jeanette Hough said she's advocating for a more public conversation on the regulations in the form of a work session.
"Not only do I have a lot of questions about the regulations and on what basis they were created," Hough wrote, "but I am hearing daily from my constituents with these same questions. For starters, I think it is important that we honor the follow on motion from May 7, 2015 when members of the former board stated that changes would be reviewed in a public way."
Springfield District representative on the board Elizabeth Schultz is also critical, saying that the process of arriving at the regulations has been less transparent than the board promised last May.
"The race to embrace doesn't help any side," Schultz said. "There's been no presentation to the board about what we're doing well, best practices, what we're not doing well, recommendations that we change. There's nothing."
Schultz, Hough and Sully District member Tom Wilson submitted a series of questions regarding the pending regulations to staff prior to finished product being sent to board members.
"How do you fundamentally implement any of this policy?" Schultz said. "[The regulations are] extremely limited. They don't even begin to cover the length and breadth of what we've submitted."
SCHULTZ CITED the regulations not addressing transgender employee issues, how conscientious objector teachers would be dealt with, or whether medical professionals were involved in creating the document, adding their expertise on if the guidelines would be truly helpful.
"These are the nuances no one's thinking about," she said. "It requires really thoughtful discussion. To be authentic, you still have to have integration in the process, allow the process to work the way you told the people it was going to work."
Robert Rigby is a teacher at West Potomac High School and leader of the LGBT employees group for Fairfax County Public Schools called FCPS Pride.
So far, Rigby, who has been advocating for LGBT nondiscrimination since 2000, is pleased with the regulations. He was pleasantly surprised, he said, by the inclusion of support teams and the definition for gender nonconformity.
"It doesn't put kids into boxes," he said, "say you have to be — you can be yourself. It accommodates and recognizes that."
Regarding the support teams, Rigby said Fairfax has been doing a version of that for a while. "It's a developed program," he said. Even if it hasn't been codified until now. "My colleagues who've worked on this say it's been a process — helping people out, making sure things work right. They're really pleased and impressed by how it's worked."
Rigby said a bigger challenge for LGBT students is still those who don't have support from their parents. His hope is with the new regulations and surrounding discussion and shared information, there will be more understanding.
"No one can make people support their kids," he said. "But you can educate the wider community so there's more of a chance."
The regulations are now posted online here.