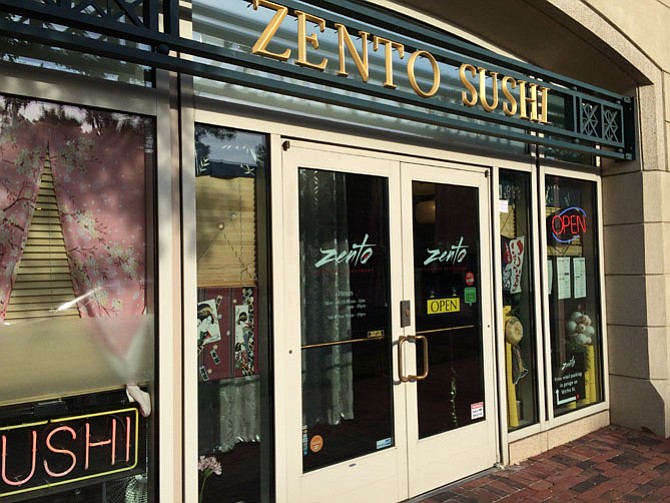 There's no denying it: The dog days of summer have arrived in full force. Local thermometers have flirted with the triple-digit mark all week long, and normally bustling King Street has found its sidewalks nearly empty as residents take shelter from the heat. When you're looking for some cooler fare, try these restaurants on for size.
Zento, 693 N. Washington St.
Sushi is always a welcome sight when the outdoor temperatures soar. Cool rice, fresh fish (or vegetables), and crisp edamame conspire to make a filling meal that won't leave you overstuffed or overheated. And when it comes to area sushi bars, you could do worse than Zento in North Old Town.
The sushi menu offers a plethora of options, but for something a little out of the ordinary, be sure to give the chirashi bowl a try. This rice-based bowl, which is available with fish or in a vegetarian version, is teeming with fresh sashimi and garnishes — or with fresh vegetables and tofu in the vegetarian option. The sushi rice is seasoned beautifully and brings with it just a hint of vinegar and sugar, ensuring the dish has balance with each bite. Equal parts light and hearty, it makes for a complete meal in one tidy package.
The Pita House, 719 King St.
Mediterranean food has a way of transporting diners to the Greek islands, subbing out hot and humid days for more arid climes in one's imagination. Step into the Pita House and you'll be taken straight there nonstop. From sandwiches to salads to entrees, this Old Town mainstay has you covered on a hot summer day.
For the ultimate in refreshment, start your meal with an appetizer of hummus bel fool, hummus topped with fava beans and served with pita bread. For your main course, the Pita House's Greek salad is one of the best in town and is certainly worthy of your attention; if you're looking for something a little heartier, the chicken shawarma offers up a nice balance of hot-and-cold, roast chicken with cool veggies.
Dairy Godmother, 2310 Mount Vernon Ave.
Double dare you to mosey down Mount Vernon Avenue at night (or midday) and pass by the Dairy Godmother without stopping in! The smells of custard and cones wafts through the front door and onto the sidewalk, beckoning to passers-by. And don't be put off by the sometimes-lengthy line; it progresses quickly and before you know it, you'll have a custard of your very own in your hot little hands.
The flavors change with the day (if you're looking to plan ahead, the shop has a "Flavor Forecast" at its website at www.thedairygodmother.com), but vanilla and chocolate remain on the menu nearly all the time. Upcoming treats for the days ahead include Mexican chocolate, banana pudding, and Mozambique — all perfectly great ways to cool down no matter the time of day.
Hope Nelson owns and operates the Kitchen Recessionista blog, located at www.kitchenrecessionista.com. Email her any time at hope@kitchenrecessionista.com.