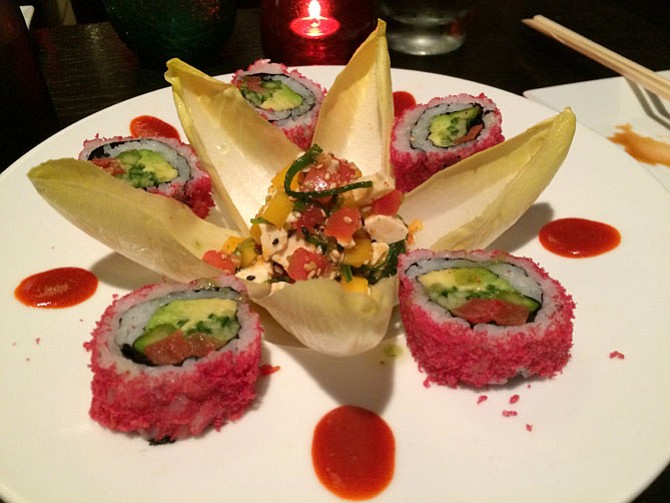 It's a new year, and your willpower to maintain your fitness goal is still going strong. With one eye on the scale and the other on your social calendar, it can be tough to find a middle ground. Here are three restaurants that make keeping your resolution a little easier.
The Sushi Bar, 2312 Mount Vernon Ave.
One of the newer faces on Del Ray's block, The Sushi Bar made a splash when it first opened by becoming the yin to its neighboring Pork Barrel Barbecue's yang. Its calm, sleek demeanor welcomes diners in a way that is quite different from Pork Barrel's more rowdy layout. Whereas its neighbor sports a fun-for-the-whole-family environment, The Sushi Bar is more subdued, even requesting that children stay home. And in perhaps the starkest contrast, the food at The Sushi Bar is filling yet clean and healthy — a perfect way to stay on your resolution diet and still enjoy a great night out.
The first thing you'll notice about The Sushi Bar is its menu. So often, sushi restaurants maintain the same general standards and the same general offerings as all of their competitors: miso soup and salad, a California roll, and the like. But The Sushi Bar does things a little differently.
At first, diners might be a little stymied when scoping out the menu, but given a moment to warm up to the chef's specialty rolls, it's soon clear that this is a chef who knows what he's doing. From the Del Ray roll — a mix of spicy tuna, avocado, eel sauce, jalapeno, and more — to the crunchy salsa roll, a masterpiece teeming with mixed fish, avocado, and mango salsa, there are plenty of opportunities to try new things while sticking to your calorie count. The vegetable rolls — notably the Veggie J roll — are also standouts in their own right, bursting with fresh vegetables and served in creative ways. (Helpful hint: If you're looking for other non-fish sushi options, all you have to do is ask. The chef will make a showpiece worth waiting for.)
If you've got room in your diet for something to wet your whistle, you'd do well to try the sake tasting menu. Or order by the carafe or by the bottle — there's something on the menu for all tastes and price points.
Fontaine, 119 S. Royal St.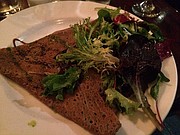 Admittedly, you've got to be careful how you order to stick to your resolution goals at Fontaine, purveyor of crepes both sweet and savory. But peruse the menu carefully — and steer clear of most of the sweet crepes — and you'll find a world of options available that will help you stay on the right path.
If you're ready to dial up your vegetable intake, you could do much worse than the Farmer's Market crepe, which is filled with zucchini, mushrooms, tomatoes, spinach, and a hint of feta cheese. Or investigate the Zenist, which is a wonderful mix of lentils, tomatoes, and spinach in a coriander coconut curry sauce. Fontaine's array of salads are also excellent choices — but you're at a restaurant that specializes in crepes. Make the most of it!
If you simply can't walk away from Fontaine without a sweet treat, give the Sweetest Thing a try. Filled with wine-marinated cherries and mascarpone cheese, it's a delight for the taste buds, a wonderfully surprising mouthful of sweet and sour with each bite. Enlist your dining companions to split the crepe with you, and you can still stick to your diet plan with minimal guilt and maximum taste.
The Pita House, 719 King St.
The Pita House is no Johnny-come-lately to the Old Town restaurant scene, that's for sure. From its former abode on Cameron Street to its newer digs on King, just west of Washington Street, it's a familiar face to many Alexandrians. And its fresh, flavorful menu offerings continue to welcome diners in, year after year.
Sit down, order a Turkish coffee and an appetizer of hommos bel fool — hummus topped with hot fava beans — and peruse the menu for your main dish. You can get a lot for your caloric buck here if you know what to look for. Craving a green-veggie meal? The Pita House's Greek salad, brimming with fresh lettuce, tomatoes, green peppers, fresh feta cheese, and a light, tangy dressing, will leave you satisfied.
If you're in the mood for something a little heartier, one of the restaurant's shawarma varieties — beef, chicken, or a combination — will hit the spot. Slow-roasted and served alongside rice and plenty of vegetables, it's decidedly a Pita House specialty. Or split the difference and select a sandwich: The veggie pita will fill you up without weighing you down.
Hope Nelson owns and operates the Kitchen Recessionista blog, located at www.kitchenrecessionista.com. Email her any time at hope@kitchenrecessionista.com.