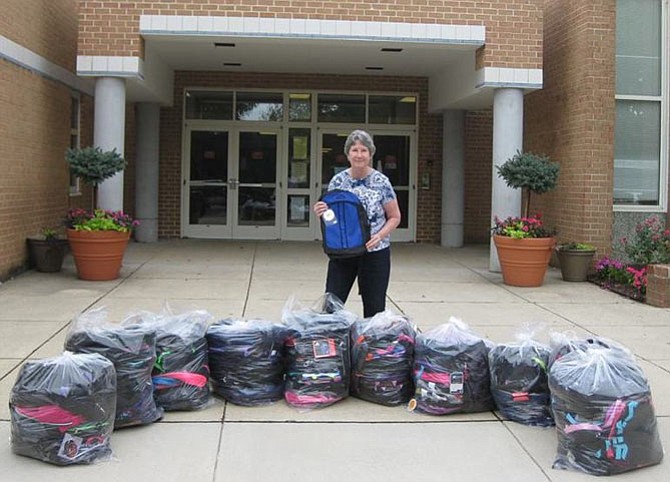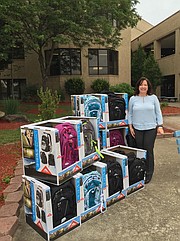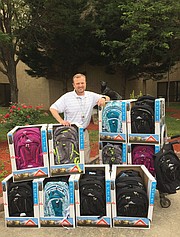 Western Fairfax Christian Ministries (WFCM) is once more collecting new backpacks for local students in need. It hopes to provide nearly 2,000 backpacks for qualified, low- income children attending 23 different schools in the Centreville, Chantilly and Westfield high school pyramids, plus Mountain View High.
But it can't do it alone; it needs the community's help. So it's asking area residents and businesses to donate new backpacks.
"Not many people realize that approximately 56,000 FCPS students are living in poverty and cannot afford basic school supplies and backpacks," said Jennie Bush, WFCM's Community Outreach Manager. "We see families struggling to pay bills and put food on the table, and the stress of getting their children ready for a new school year is heartbreaking."
So, for the sixth year, the nonprofit WFCM is partnering with Collect for Kids in a countywide effort. It's collaborating with Fairfax County, FCPS and a variety of other, local, nonprofit organizations to furnish high-quality, school backpacks to students in need. And thanks to KidsRFirst, a nonprofit dedicated to education, they'll be filled with school supplies.
"While all students need new school supplies each year, if they receive appropriately sized, good-quality backpacks, they won't need new ones every year," said Bush. "Typically, about one-third of the students on free and reduced-price lunches will receive new backpacks at school."
WFCM provided 1,995 backpacks last year. This time, Westfield High didn't need as many as before, but the amount of backpacks requested by Virginia Run, London Towne and Centreville elementary schools increased.
"We are so fortunate for the community's willingness to help us help these families," said Bush. "We have many churches that have agreed to sponsor an entire school – or two or three – to provide for all their backpack needs. For example, this year, Centreville Baptist and Centreville Presbyterian churches are working together to donate 200 backpacks for students at London Towne."
In addition, some businesses have contributed financially so WFCM can take advantage of backpack sales to help fill in gaps. And this year, it'll be receiving free haircut vouchers in August from Hair Cuttery so its clients' children may get new haircuts before school.
"We're so grateful for the church, business and individual donors who each do a little to help meet the many needs in the community," said Bush. "It truly is an example of neighbors helping neighbors."
She said one way for local businesses to participate is to hold a backpack drive at the office. Many stores have sales in July and August, and shoppers may take advantage of them for their own children and buy a few extra backpacks to donate to their office's collection.

Beginning Monday, Aug. 8, until Friday, Aug. 19, backpacks may be delivered, Monday-Friday, from 9 a.m.-2 p.m., to WFCM's new location at 4511 Daly Drive, Suite J, (off Willard Road) in Chantilly. Its new office and food pantry there will provide a bigger, more flexible space enabling WFCM to better serve its clients.
"Currently, we still need 250 backpacks for elementary-school children and 150 large-sized backpacks for middle- and high-school students," said Bush. "We still have three schools completely uncovered and one high school just partially supplied."
Backpacks should be new, good quality, with padded bottoms and shoulder straps. They should not be sling style, have wheels or be decorated with cartoon characters or corporate logos. The need is greatest at high-school level; these backpacks should be 20x14x8 inches. Middle-school backpacks should be 18x13x8, and elementary-school backpacks should be 16x12x5.
Bush noted that Costco sells a large, two-compartment, quality backpack from High Sierra for under $20, which will meet the needs of middle- and high-school students. "We need the community's help," she said. "Good backpacks can really make a positive difference in a child's self-esteem, as well as his or her success in school."
For directions to WFCM's new location, call 703-988-9656. Bring backpack donations to the back door of the food pantry. For more information about the backpack drive or ways to help, contact Bush at jbush@wfcmva.org.