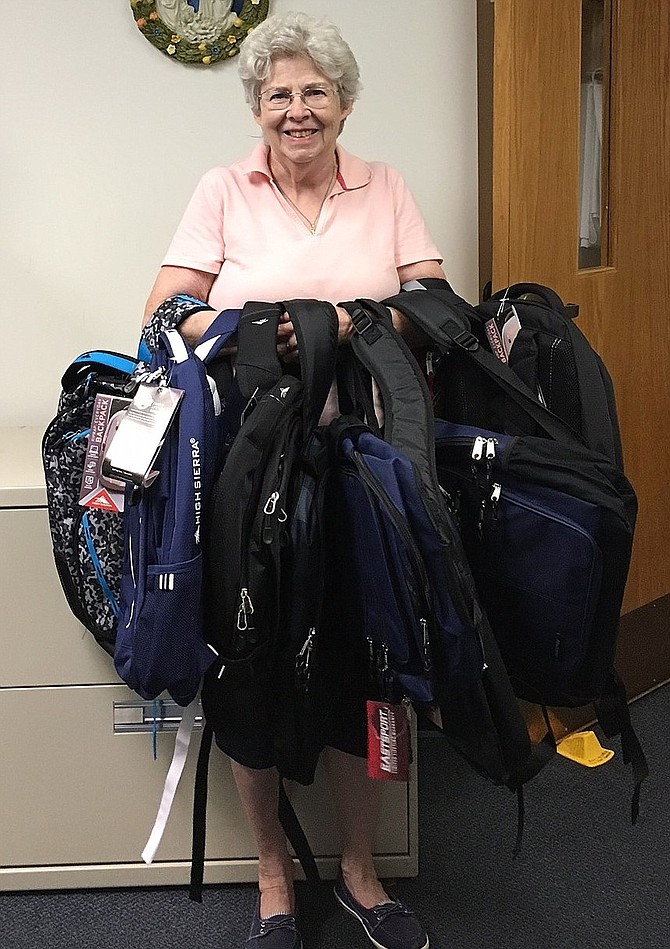 Many parents in Fairfax County struggle daily to pay the bills, keep food on the table and, if they're lucky, maintain a roof over their heads. So it's no wonder that the financial obligations each new school year brings can fill them with dread.
But that's where Western Fairfax Christian Ministries (WFCM) and two other organizations come in. Together, they provide backpacks filled with school supplies to students at 24 elementary, middle and high schools in western Fairfax County.
However, with so many students in need, it's a daunting task — which they can only accomplish with the community's help. And with classes starting next month, WFCM's annual backpack drive is already underway.
"Over 55,000 children in Fairfax County Public Schools receive free or reduced-price meals and are, therefore, eligible to receive assistance," said WFCM Community Outreach Manager Jennie Bush. "So for the eighth year, WFCM is partnering with Collect for Kids (www.collectforkids.org) and Kids R First (www.kidsrfirst.org) in a countywide effort to ensure the neediest children in our community receive the supplies they need to succeed in school."
WFCM provides new, quality backpacks through generous donations from local churches, businesses, community groups and individuals, and Kids R First provides the school supplies.
"As a parent, you want the best for your children, and you want them to have the same advantages as their peers in the classroom," said Bush. "It becomes very stressful trying to manage finances at the beginning of the school year when you're asked to pay fees, buy supplies and possibly need to get new shoes or clothes for your children. Sometimes, a little help is needed to keep things in balance. And the community can make a positive difference by supporting WFCM's annual Backpack Program."
Furthermore, she said, "Results and research show that, when adequately equipped, schoolchildren have a more positive feeling of self-worth, miss fewer days of school, are more attentive in class, have improved classroom behavior, and achieve higher test scores in all academic subjects."
Here's information about the types of backpacks needed here:
High School: Size 20″ H × 14″ W × 8″ D (the greatest need)

Middle School: Size 18″ H × 13″ W × 8″ D

Elementary School: Size 16″ H × 12″ W × 5″ D
During July, Costco sells a large, two-compartment, quality backpack from High Sierra for approximately $16 which will meet the needs of high-school and middle-school students. Backpacks should not have wheels or corporate logos and should not be sling or messenger bags.
Deliver Backpacks to WFCM from July 16 through Aug. 17. Bring them to the back door of WFCM's food pantry at 4511 Daly Drive, Suite J, in Chantilly, Monday-Friday, 9 a.m.-2 p.m. Or donate financially to WFCM via www.wfcmva.org or mail checks payable to WFCM to P.O. Box 220802, Chantilly, VA 20153. For more information, contact Bush at jbush@wfcmva.org.