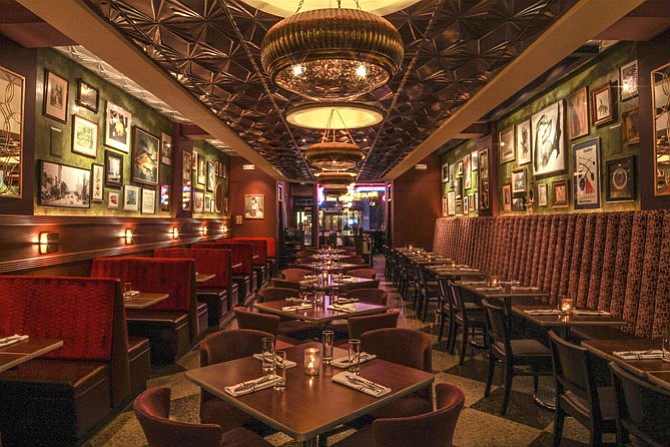 Walk past the exterior of the Majestic on King Street and at first glance, it seems nothing much has changed over the past several months. But look closer — peer inside — and a new scene emerges. It's one that executive chef and proprietor Gaby Hakman has been carefully cultivating since coming onto the scene earlier this year, and it's finally come to fruition.
"We decided to go with a completely new direction," Hakman said, from a renewed dining room to a fresh menu.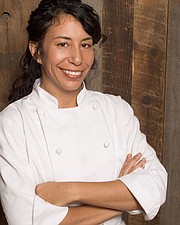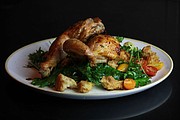 The design of the dining room is a mixture of old and new, from an original sign from 1932's Majestic that hangs inside the front window to the tin ceiling lining the sides of the room, which harks back to the original incarnation of the restaurant.
"I think there will still be a sense of familiarity to the place," Hakman said.
But what diners are really coming for is the food. And while the menu has been redesigned, like the building itself, there are still touches of the restaurant's history throughout.
"Even though the food is new, it's comfort food," Hakman said. "It's not overly pretentious, it's not overly plated; it's definitely I'd say very rustically elegant."
One of the highlights: The roast chicken, Hakman says.
"As humble as the dish is, the roast chicken is really wonderful. It's a great chicken, it's a great plate, and I don't think there's anythimg more comforting than a good roast chicken," she said. "I think ours is very good. I'm happy with that."
The desserts, too, take on new life while maintaining Old World charm. Hakman's team kept the Majestic coconut cake on the menu but have otherwise given the sweets list a facelift. The Nutella budino is especially noteworthy, Hakman said; layers of dark chocolate ganache and Nutella budino (a pudding-style texture) come together to make magic on the plate.
The Majestic opened up brunch service last Saturday and lunch on Tuesday, and though integrating all three services in such short time could have been a bit of a trial by fire, the openings have actually been quite smooth, Hakman said.
"I think we've accomplished the vision that I had with the food, and … I'm proud of the whole menu," she said.
Overall, it's safe to say Hakman and her team are settling in nicely — and the neighbors are welcoming the newly minted Majestic back into the King Street fold.
"It's been a great experience for me to come up here and get involved with this restaurant group (Alexandria Restaurant Partners) and have this opportunity," Hakman said. "I've come to the Old Town area for 20 years … and it feels wonderful to give something to this community."
Hope Nelson owns and operates the Kitchen Recessionista blog, located at www.kitchenrecessionista.com. Email her any time at hope@kitchenrecessionista.com.
If You Go
The Majestic
911 King St.
Hours: Lunch, Monday-Friday 11:30 a.m.-4 p.m. Dinner, Sunday-Thursday 4-11 p.m.; Friday-Saturday 4 p.m.-midnight. Brunch, Saturday-Sunday, 11 a.m.-4 p.m.
Try this: "Our pork chop is really wonderful," executive chef Gaby Hakman says. "We brine the pork, it's a local Cheshire pork, just a really wonderful tasty dish."