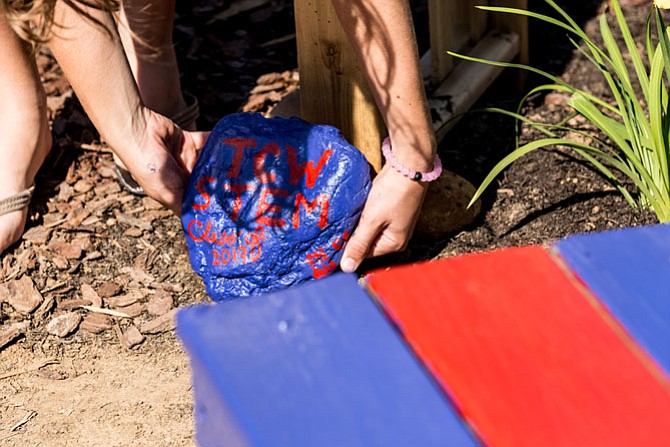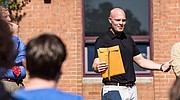 T.C. Williams' Minnie Howard Campus' renovated courtyard, Emma's Garden, officially reopened on June 9. The courtyard was renamed in 2010 and dedicated to late teacher Emma Cabrera, who died in an accident that school year. Biology teacher Benjamin Matthews along with local master gardener Susan Helper helped outline the project and received a $500 grant from the PTSA to aid in completing the renovation.
"When I came into the system several years ago I just noticed that this space wasn't being used," said Matthews, "and I'm always an advocate to get outside and have the outside be part of the education process." Matthews and Helper facilitated the process, but they say most of the work was done by the students. Students reached out to local businesses and residents and received donations ranging from plant seeds to coffee grounds which they used in creating the garden.
The garden is just getting started. Over the summer, student volunteers plan to help water the plants and provide upkeep for the garden. In the fall, Matthews plans to plant bulbs with the next incoming class so they can see them bloom in the spring.
Minnie Howard is a ninth grade learning center as part of T.C. Williams High School, which means the students who are there now won't be there in the fall of the coming school year, but that doesn't stop them. "The students are totally invested in this project, even though they're not going to be here next year," said Matthews, "they want to see it succeed and continue to grow and see the impact they've had in this space."
Matthews and Helper plan to reassess what's coming next for the garden when school resumes in the fall, but they've already seen change in the current students. "I feel we've started a little bit of a movement," said Matthews, "'cause students are asking 'when can we go out and work in the garden?'"
Follow the progress and view pictures of Emma's Garden on twitter @TCBioTeacher or @TCW_STEM.