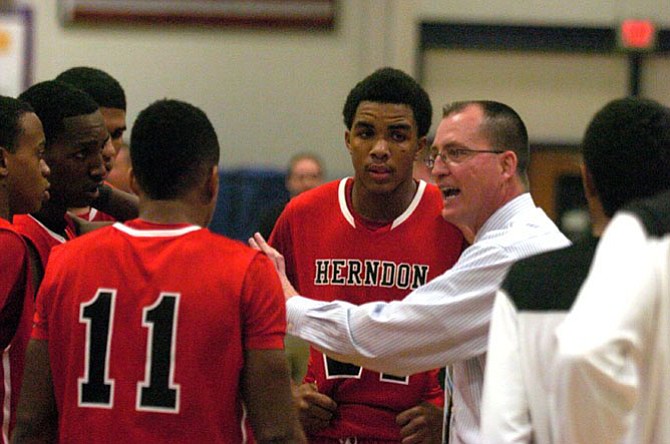 Herndon — For those around the Herndon Hornet's athletic department, in the next few weeks and months they might feel like something's missing.
They might feel the loss of a teacher, a coach, a friend.
They might feel the loss of a community member, a mentor, and perhaps a family member.
One thing, however, that won't be lost, is the legacy being left behind by Gary Hall at Herndon High School.
LAST WEEK Hall informed the Herndon athletic department that he will be stepping down from his teaching position as well as his spot as the Boy's Basketball Head Coach to accept another job at Nacogdoches High School in eastern Texas.
A choice that is a family decision, opposed to a basketball decision, Hall will now be able to be closer to his daughters while living in Texas.
"At this time in his life, being able to teach and coach as well as be a father is huge for him," said Jonathan Frohm, the director of Herndon Student Activities and Athletics. "He's got a window here to make the best of his time and take care of his family."
Hall has been a part of Herndon for nearly his whole life, but he knew this time would come eventually.
"I knew that eventually I'd end up in Texas," said Hall, "I just never thought it would happen this quickly. I got the opportunity [in Nacogdoches] and it was too good to pass up."
To put it into perspective, Herndon just recently celebrated its 100th anniversary as a high school. Hall has been a part of 52 of those years as a Hornet. Hall grew up in the area and attended Herndon High School, and his parents still live in the same house as they did when he was growing up. Hall coached basketball at Herndon from 1989-2007 and then again from 2012-2016.
"There are definitely mixed feelings, it's been difficult," said Hall. "I mean, the same person who gave me my first ever haircut still cuts my hair — walking in there for the last time is going to be weird. But when I get on that plane [for Texas], there's no question it's going to hit me."
One thing that has stood out about Hall is the longevity and success he's had at Herndon. He coached for 23 years, accumulating a 393-172 record for the Hornets. Hall won eight district championships in his time at Herndon, including their first in 1994 over South Lakes and three straight from 1994-1996. He won a region title in 2006, and appeared in the state tournament three times, including a runner-up finish in 2006.
"He brought passion, consistency and identity to Herndon basketball," said Frohm. "It became a big fraternity and a family between generations here at Herndon. Gary has turned Herndon into a basketball Mecca."
However, Hall will be the first to say he doesn't care about the accolades he has achieved. He'd rather talk about the love he had for his players.
Hall coached seven 1,000 point scorers in his time at Herndon. Aside from that, he coached 13 players that went on to play college basketball at a Division I level.
"Some of my best friends today are players that I've coached," said Hall. "You know, to hear one of your former players' call you up and say 'hey coach,' — it's such a blessing."
Hall also takes pride in his teaching. He has taught health and physical education at Herndon since 1997.
"I loved teaching elementary school, I mean, many of my players I taught in kindergarten, at 6 and 7 years old," said Hall. "I don't think there are many places where you can do that."
Some of his former players had nothing but good things to say about him.
Former player Jeremiah Johnson, who graduated from Herndon in 1995 and went on to play college at Division I Niagara as well as play overseas professionally for nine years, is one of those players who became one of his best friends.
"I met Coach Hall 30 or more years ago at a basketball camp when he was the assistant coach at South Lakes," said Johnson. "I played with Coach Hall and I played for Coach Hall. Outside of my father, Coach Hall has without a doubt had the biggest impact on my life."
Johnson said one of his favorite things he could remember about playing for Hall was the suit he would wear.
"I can remember my senior year any time he wore this specific suit — he meant business," said Johnson. "It was a gray suit with a black shirt and he would put that on for big games and I loved it."
ANOTHER FORMER PLAYER of Hall, who was just inducted to the Herndon High Athletic Hall of Fame this past week, is Scottie Reynolds. Reynolds graduated in 2006 and was a McDonald's All-American that year. He is Virginia's AAA second all-time leading scorer and went on to play at Villanova in college.
"A lot of things he taught me in high school are things that helped me perform at a high level in college," said Reynolds. "That's not just basketball either, it was how to be a good person too."
Reynolds described a story where Hall sat him on the bench after missing two free throws. After being reinserted later in the game, Reynolds scored over 20 straight points and stared right at Hall after every point he scored.
"That's the kind of love-hate relationship we had," said Reynolds. "But that wasn't the point. The point was he wasn't going to let me be average, he was going to bring the best out of me, and he did."
Both players say that Herndon High School's home gym should be named after Hall.
"Something like 'Gary Hall Gymnasium' or 'Gary Hall Court' — he deserves it more than anyone," said Johnson.
According to his players, there's no doubt he deserves it, and they strongly consider that the Herndon athletic department thinks about it.
"I am who I am and I'm where I am because of Herndon," said Hall. "Sometimes in life you take things for granted because that's all you know, but I think Herndon High School is no doubt the best place to coach high school basketball in northern Virginia."