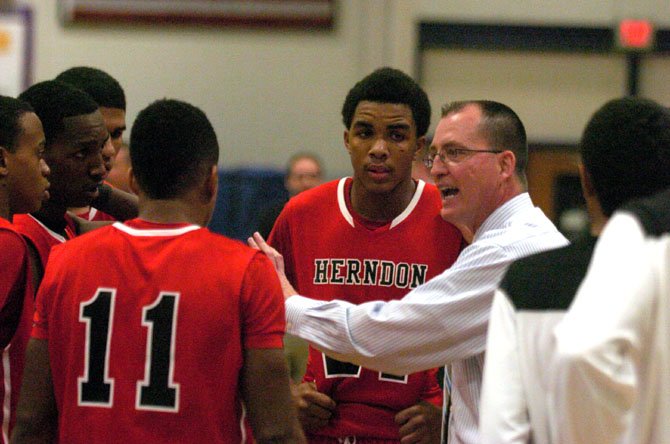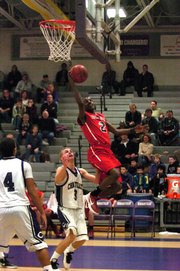 Chantilly — With a five-point lead against Chantilly midway through the fourth quarter, Herndon's Will Ferguson saw an opportunity to make a play.
The 6-foot-2 guard drove down the lane and elevated with visions of dunking the basketball. But Ferguson's journey to the rim was cut short as the senior collided with a player mid-flight and crashed to the floor.
Ferguson momentarily lay on the Chantilly gymnasium floor before rising to his feet and heading to the Herndon bench, ending his 25-point performance.
"I was scared," Herndon's Dorian Johnson said of seeing Ferguson hit the floor. "I was just hoping he was all right."
While Johnson was concerned for his teammate, the junior guard and the Hornets didn't lose focus on the task at hand.
Johnson scored nine of his 25 points after Ferguson's tumble, leading the Herndon boys' basketball team to a 75-65 victory on Jan. 10. Ferguson and Johnson took turns burning the Chargers at the offensive end. Johnson, a 6-foot-4 left-hander, struck first, scoring 13 of the Hornets' 15 first-quarter points.
"They weren't really guarding me," Johnson said. "If I have room, I'm going to attack. Nobody else was hitting shots, so I had to pick up the slack for the rest of the team."
Ferguson erupted for 16 third-quarter points after struggling to make shots during a five-point opening half. Herndon trailed 32-31 at halftime, but Ferguson helped the Hornets to a 12-point third-quarter lead by knocking down perimeter shots and attacking the basket.
"I just kept shooting," he said. "I couldn't get anything going in the first quarter. I had to keep shooting and they started falling."
"[Will Ferguson and I] know we're the two main scorers. If one of us isn't producing, we have to pick up each other's slack. If both of us are scoring at the same time, that's even better."

—Herndon junior Dorian Johnson
With Ferguson sidelined, Johnson went back to work. A 3-pointer by Chantilly's DeAndre Harris cut Herndon's lead to two with 4:22 remaining in the fourth quarter, but Johnson answered with a putback, sparking an 11-0 run that helped the Hornets secure the victory.
"We know we're the two main scorers," Johnson said. "If one of us isn't producing, we have to pick up each other's slack. If both of us are scoring at the same time, that's even better."
According to stats from the Washington Post's website, Ferguson is averaging a team-high 21.7 points per contest. Johnson is averaging 18.2.
"We came into the game with the idea that we had to do a pretty good job on Johnson and Ferguson," Chantilly head coach Jim Smith said. "They combined for 50 points. You allow those two guys to score 50 and then we missed 18 shots in the paint and we [make] nine of 20 from the free-throw line, it's hard to win when you do that."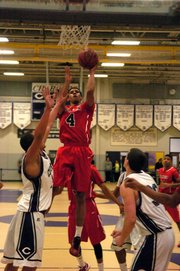 Herndon head coach Gary Hall said Ferguson doesn't want to be viewed as a ball hog and needs to be reminded on occasion that the team needs him to be an offensive focal point. Hall delivers a message to Ferguson that is similar to what the coach told former Herndon All-American Scottie Reynolds: "The most unselfish thing you can do for Herndon High School right now is be selfish."
"For everything that Will is, I think he's very misunderstood," Hall said. "What I told Will at halftime [is], 'If we lose a basketball game with you getting into the lane taking great shots, I'll do that every time because I believe in you and I have complete confidence in you.' Sometimes he needs to know that it's OK."
Hall gives similar encouragement to Johnson.
"We need him to assert himself more," Hall said. "I always try telling him, 'Impose your will on people.' Sometimes he just allows himself to be guarded. I'm like, 'There's not a kid on the court that can guard you.'"
The duo's performance on Thursday, which included eight rebounds for Johnson and six for Ferguson, helped Herndon beat a Chantilly team that entered the contest with a 12-1 record, including 2-0 in the Concorde District. The Hornets improved to 10-4 overall and 2-1 in the district.
"We know that we are a talented team," Hall said. "What this does is validate, because we needed to beat a quality team."
Hall coached at Herndon for 18 years before resigning in 2007 so he could watch his daughters play basketball at Briar Woods High School in Ashburn. With his daughters away at college, Hall, a teacher at Herndon High School, took the head coaching job at Middleburg Academy and was there for one year before returning to the Herndon basketball program last season as an assistant coach. Head coach Chris Whelan resigned after the 2011-12 campaign, leaving the door open for Hall, a 1979 graduate of Herndon High School, to return to his former position.
"Anytime as a coach, you look for something that's going to give you some credibility," Hall said after beating Chantilly. "Although I've coached, and [Herndon players] know that, they don't care about what happened 15 years ago. We needed a signature win to give our program some credibility. Tonight is it."
Herndon junior Delontae Wingfield scored 11 points and grabbed eight rebounds against Chantilly. Sophomore guard Trevon Wright finished with six points and senior post Sean Mathews grabbed nine rebounds.
Herndon will travel to face Westfield at 7:30 p.m. on Thursday, Jan. 18.