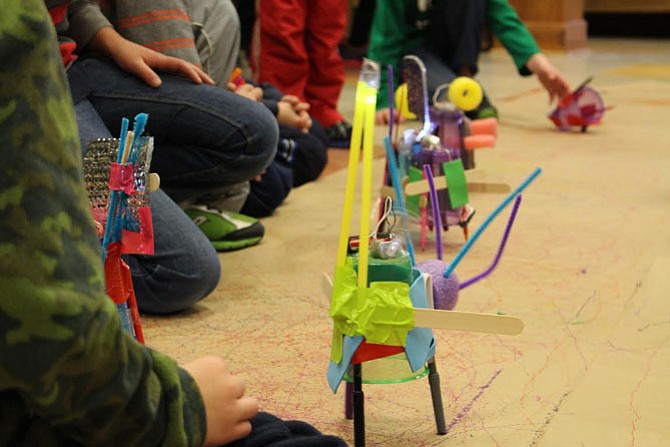 There are a couple things one expects to see in the Potomac Library. Books, readers, librarians, and … robots?
They're not robots exactly, explains Matt Berinholtz, founder of the FutureMakers program. The product of their "Ready, Set, GoBots!" workshop is more like a kind of kinetic artwork.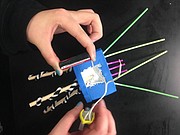 "Participants use basic and electromechanic materials to make things move," Berinholtz said, "They're given a lot of choice. They make their own creative designs from a limited palette of materials." The materials can range from cardboard, glue, popsicle sticks, and foam, to batteries, LEDs, and the components needed to craft a working motor. Together these parts provide ample possibilities for workshoppers to craft quirky contraptions of their own design.
"I love the idea they get to take something home, something tangible, something that they can look at and think 'this is really cool, maybe I can do this as well,'" said Liz Herer, the Potomac Library's teen librarian. It's Herer's job to work with teens, fostering literacy, learning, and a supportive environment. She's the one behind bringing "Ready, Set, GoBots!" to the Potomac Library on Thursday, June 30 where it will be open exclusively to those between 13 and 17. The session runs from 4-5 p.m. and will be led by two facilitators, Jackie Wheeler, an educator and artist, and Gage Branda, a technologist and designer. The workshop is free, but requires registration with the library at 240-777-0690. It accommodates a maximum of 30 participants, but many spots remain. The library is located at 10101 Glenolden Drive, Potomac.
"'Ready, Set, GoBots!' is an extension of what FutureMakers does," said Berinholtz, "It connects coaches with programs and organizations that are interested in activating technologies or inventing new things."
Herer hopes to bring more STEM opportunities for teens to the Potomac Library in the future. "It's learning about math and science in the best sort of way," Herer said. "It's fun and engaging. It's not just instructional and academic, but kinesthetic and creative as well."