At Rocky Run Middle School in Chantilly, new librarian Rachel Grover, 28, of Gainesville, says, "Reading is cool and students read like crazy."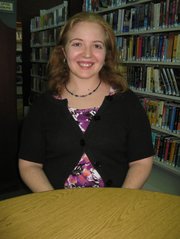 She says middle school students are often at a crossroads of defining who they are and one of the great things about young adult literature is the diverse perspectives that it brings.
So what's popular for middle-schoolers reading-wise? Dystopian literature like The "Hunger Games" series, or "The Giver" by Lois Lowry. For boys, the Alex Rider series and Anthony Horowitz is hot; as are the Harry Potter books and Walter Dean Myers, she says. For girls, the "Gallagher Girl" series by Ally Carter about young females who train as spies as well as the "Divergent" series by Veronica Roth set in a dystopian world (similar to the "Hunger Games").
"Middle school students are always looking to fit in with their classmates. When they read the same books as their classmates, it gives them a commonality with their friends," said Grover, who taught herself to read at age 3.
Top Books for Middle Schoolers
1) "The Hunger Games Trilogy" by Suzanne Collins
2) "The Giver" by Lois Lowry
3) "The Book Thief" by Marcus Zusak
4) "Drums, Girls, and Dangerous Pie" by Jordan Sonnenblick
5) "Ender's Game" by Orsen Scott Card
6) "Monster" by Walter Dean Myers
7) "The Mysterious Benedict Society Series" by Trenton Lee Stewart
8) "How They Croaked: The Awful Ends of the Awful Famous" (Nonfiction) by Georgia Bragg
9) "Chasing Lincoln's Killer" (Nonfiction) by Steve Sheinkin
10) "Discovering Wes Moore" (Biography) by Wes Moore
11) "Pressure: True Stories by Teens About Stress" (Nonfiction), edited by Al Desetta
But a lot of students are also into realistic fiction ... "They like to be able to associate with a character and being able to connect their own lives so they know they are not alone in what they're going through," said Grover, who is originally from Boston and has degrees from Gordon College and a master's from Old Dominion University. She worked in Manassas and Dumfries, and taught fifth grade, then seventh and eighth grade English before making the switch to a librarian.
She added: "They are really looking for affirmation or exploration out of their current situation. So reading is the place to find themselves and who they are."
Graphic novels are becoming more popular, she says. "It used to be that graphic novels and comic books did not have a prominent place in the library, but now they're huge." For example, the "Uglies" series by Scott Westerfield has its own graphic novel series, meaning that each novel has a graphic novel version. "It reads like a comic book but it's the length of a novel," she said.
Another trend is turning nonfiction events like the Vietnam War into graphic novel form. It helps struggling readers to stay in the loop with their reader friends, so if a student can't read on the level of the novel, graphic novels help them visualize and shorten the amount of text they have to read, she says.
Grover says Rocky Run's library is changing with the times and the internet is making librarians think about whether to invest in print or electronic versions of a book. "And students seem receptive to both," she said.
She said students are more internet-dependent now and are able to use an iPad or an iPhone to search the Fairfax County catalogues and online databases on a global scale. "They are always on their phones or electronic devices and they are looking for information; we are showing them safer, valid resources to learn instead of just Google or Wikipedia," she said.
Grover wants to make better use of BYOD -- Bring Your Own Device – where students bring in their own iPhones and iPads into the library. "The main question is how can the library use that knowledge to engage their patrons," she said.
So she created a bulletin board for the Virginia Reader's Choice Books, a committee that comes up with the top books for each level in elementary, middle and high schools. The bulletin board has a QR code with the book covers so students can watch a book trailer, similar to a movie trailer, to get a preview. "We plan on using QR codes to link students to the library catalogue, so they don't have to sign into a computer," she said.
Grover will be presenting at the state librarian's conference, the Virginia Association of School Librarians (VAASL) in Roanoke on Nov. 6-8 on how librarians can use technology to make them more 21st century friendly. She'll be talking about using Google Forms and QR codes to make libraries more tech-friendly for both staff and students.
Anthony Terrell, principal of Rocky Run Middle School, says Grover brings a wealth of middle school teaching experience to her new role as a librarian, which is an asset. "The middle school library is often where students first learn the research skills they will use in high school and beyond," he said.
He added: "She also brings an infectious interest in age-appropriate literature for middle school students and a heart for young readers."
Charlie Fontz, librarian at Rocky Run, calls her organized, energetic, enthusiastic, creative, and refreshing. "As a new librarian, Rachel brings freshness to the position, which I really appreciate … She looks at everything from the perspective of being a recent classroom teacher."

He added: "Rachel is a very creative person who has wonderful concepts on how to present various ideas, whether in the form of bulletin board displays, student library orientations or how to work with students in the library and in their classes."