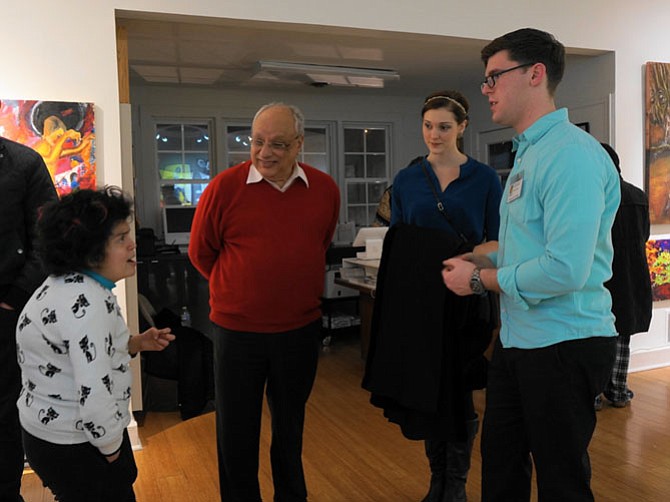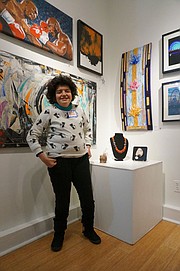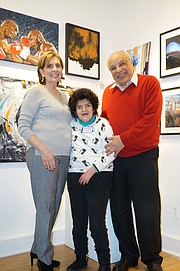 Like most children growing up, Yasmine Iskander liked to color with crayons. And like most mothers, Silvia Sagari was proud of everything her daughter created. But four years ago, when someone suggested to Sagari that Yasmine genuinely had talent, she took notice. Because Yasmine Iskander is not like most children.
"Yasmine has a complex medical history," Sagari said of her 19-year-old only child. "Among other things, she is deaf and has intellectual disabilities. But when she is painting, she comes alive."
A chance meeting with John Bordner, the vice president of the Del Ray Artisans in Alexandria, led to Yasmine entering one of her paintings in DRA's latest exhibit, March Melee. Her work was accepted and Yasmine and her family attended the March 4 opening reception at the Nicolas A. Colasanto Center.
"When Silvia showed me some pictures of Yasmine's work on her phone, I thought 'Wow! What color, what vibrancy, what life!' Bordner said. "I thought the theme of March Melee exactly described Yasmine's work – just a riot of color and cheer so I encouraged her to submit one of her paintings. This was a very competitive show but I am not at all surprised that one of her pieces was accepted."
Yasmine's painting, "The Volcano," was not only accepted, it was awarded one of only four Curators Awards.
"When I paint, I feel it in my heart."

--Artist Yasmine Iskander
"I'm very excited to be here tonight," said Yasmine as she mingled among the crowd. "I love art. It makes me happy and when I paint, I feel it in my heart."
Yasmine, who has also begun working in pottery, said that most of her ideas just "pop into my head."
"I make art because it is fun and creative," Yasmine said. "Art is something that is always new…. there is always something I can learn and I like to learn new things."
Yasmine, a senior at McLean High School, has undergone 25 surgeries, including five procedures on her heart and three on her brain.
"I am so proud of her," said Yasmine's father Magdi Iskander. "She is always so full of kindness -- she wins the Good Samaritan award every year at school. To me, she is the face of God on earth."
When asked if Yasmin inherited her talent from either of her parents, Sagari laughed.
"Us? Heavens no," Sagari said. "We're economists. Yasmine's talent for art is a gift she was blessed with."
Yasmine continues to take classes, studying with Marsha Staiger and Sharon Malley, and hopes to enter more shows like those with the Del Ray Artisans.
"DRA is not in the business of creating art," Bordner said. "We're here to create opportunity, hope, joy. It humbles me to see the kind of excitement and joy that being here tonight has sparked in Yasmine."
The March Melee exhibit runs through March 27 at the Del Ray Artisans Nicolas A. Colosanto Center, 2704 Mount Vernon Ave., Alexandria. For more information, call 703-838-4827 or visit www.TheDelRayArtisans.org.