When you think of the tropics and of Hawaii, your visions probably include palm trees, sandy beaches with crashing waves, and a whole lot of sunshine. But you probably don't even know about Hawaiian food, which is both tropical and somewhat Mainlandish. To learn about the real deal, head to Arlington's Hula Girl restaurant, owned and cooked for by a Hawaiian native, Mikala Brennan.
As she said about her Hawaiian background, "It is a magical place. I was truly blessed to have been born and raised there." But now that she is firmly planted in the Washington area, Brennan has turned her love for Hawaiian food into a thriving business. She attributes her culinary passion to spending her entire childhood in the kitchen with her Italian great-grandmother, her grandmother, and her mom, who was a graduate of the Cordon Bleu. "I've always loved cooking," she said. "it's where I feel the most comfortable and passionate."
Besides her knowledge of Hawaiian cooking, Brennan also traveled throughout Asia with her parents, visiting Singapore, Indonesia, and Hong Kong. "I think being exposed to so many cultures at an early age, especially Hong Kong that really inspired me," she said. "Hong Kong made something just click and I had an intense experience — cream of crab soup."
Although Brennan has had no formal kitchen training, she was mentored early in her career. "I convinced a chef to let me work the salad station," she said. "And I guess she figured that I wouldn't mess up things too much … I got moved up really fast and was able to keep learning different positions in the kitchen during the day while working in the front of the house at night."
While that was good training, cooking was not her first career choice. Instead, she had a consulting business that took a downturn in 2010, so Brennan started a food truck in D.C., featuring, of course, Hawaiian food. "The truck just took off, and that was something that was a surprise to me," she said. "I didn't know if Hawaiian food would work out here, so I tried to keep the menu really simple, focusing on what I call the 'gateway' item, teriyaki." But once customers got hooked on her cooking, Brennan found that on average she would be serving 200-plus people a variety of Hawaiian dishes for lunch.
Recognizing that the food truck business had a shelf life, particularly with the new D.C. food truck regulations detailing parking-place restrictions, she decided to start a restaurant. That was back in 2013-2014, during which time she searched for the perfect location. That turned out to be Arlington/Shirlington. "It is somewhat residential with that feeling of being in a community," she said. "The Shirlington thing happened quickly and the location came open on a second go-round. I think this where I am supposed to be. It gives me lots of flexibility."
But lucky are the nearby patrons who regularly get to dig into her honest Hawaiian fare: chicken katsu, Kalua pork and cabbage, Spam (yes, Spam) Musubi, and poke, which is raw tuna. Oh, and the rather unique entrée, Waialua root beer sticky ribs plus the Hula Girl mai tai.
Hula Girl Bar & Grill, 4044 Campbell Ave., Arlington, VA 703-998-4853. Hours: Lunch and dinner daily.
Hula Girl Kalua Pork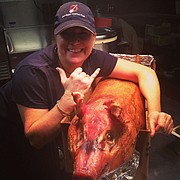 Mikala Brennan explains that the word "kalua" is derived from two Hawaiian words, "ka" or the, and "lua" or hole. The latter refers to using an underground oven, or imu. The all-natural liquid smoke is sold at natural food stores. Banana leaves are sold at Asian markets. Serve with some sticky rice and veggies for a great meal. The pork can be refrigerated for up to 5 days. Note that you can cook the pork in a crockpot or in the oven overnight.
Serves 6 to 8
1 cup canola oil
½ cup Hawaiian salt, or kosher salt
2 tablespoons all-natural liquid smoke
10 pounds pork butt
2 banana leaves
Preheat the oven to 250 degrees.
Take the 1 cup oil and mix with the salt and liquid smoke to make a paste. Set aside. Lay a piece of heavy-duty aluminum foil, about 18 inches long and 18 inches wide, onto a work surface. Place one of the banana leaves onto he foil, and spread half the paste onto the banana leaf. Place pork onto the top of this, and use the remaining paste and rub the pork really well on the top. Place the other banana leaf on the top of the pork. Place another piece of foil over the banana leaf. Then pull the bottom and top together to create a tight seal. Place foil package into a large roasting pan, fill with 2-inches of water and cover the pan with foil to seal in the steam.
Cook for 8 to 10 hours — don't peak! Let cool slightly, then unwrap the foil carefully as there will be steam wanting to escape. Discard the banana leaves. Pull the pork out of the roasting pan — but, reserve the juices! Shred the pork with 2 forks or with tongs. Add in some of the reserved juices.
Stir in the cabbage — cover until ready to use.