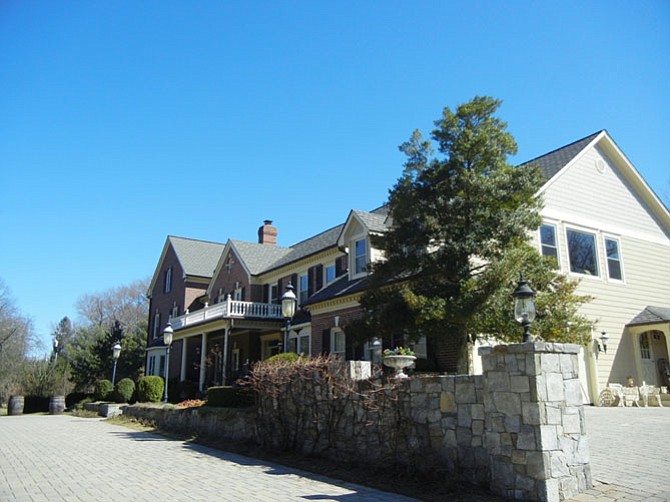 The 44th Annual CCWC Homes Tour, Silent Auction & Book Signing, hosted by the Clifton Community Woman's Club, will be held Thursday, May 19. Tour hours are 9:30 a.m. - 4 p.m.
The silent auction and book signing with local authors is 9:30 a.m. - 5 p.m. the Clifton Presbyterian Church, with additional authors at Clifton's Acacia Masonic Lodge.
Proceeds from the tour and silent auction benefit local charities and scholarships through the club's 501(c)(3) Charitable Trust. Enjoy guided tours of four homes in Clifton and Fairfax, including the historic Mathy House, home of George Mason University's president.
Tour tickets are $25 in advance, $30 the day of the tour, $10 for one home. Free admission to Silent Auction and Book Signing. For more information, visit www.cliftoncwc.org or call 703-609-3479.
The Braun Home, Fairfax
When Richard and Jane Elizabeth Braun purchased this property in 2003, it came with a two-story log cabin which has stood here since the days of the founding fathers, and in fact was used by Lawrence Washington, George's half-brother. Now used as a guesthouse, it recalls that bygone era with antique furnishings, a stone fireplace, a simple Amish log bed tucked under the eaves, and a charming cottage garden outside.
The main house is a stately Georgian brick style. They redesigned their expansive country kitchen choosing finishes that glow with a worn and rustic patina. Hewn posts and beams reclaimed from old barns, Civil War-era brick, hammered copper sinks and terra cotta floors all recall the property's historic past. Adding character and visual interest are four types of cabinetry: distressed cherry, reclaimed barnwood, golden painted beadboard, and knotty butternut with leaded glass doors. Countertops are variously distressed concrete, honed granite and polished granite.
The floors throughout the house are reclaimed random plank heart pine. In the soaring family room there is a massive stone fireplace (one of seven in the house). The Brauns collect art and antiquities. There is a large carved antique Spanish chest, and a 17th century carved icon from a church in Spain hanging above the fireplace.
The dining room is lit by a 200-year-old French chandelier and features a French country sideboard and cupboard, and a silver service which belonged to Richard Braun's grandfather. Here too is the oldest and most unusual antique in the home, a late 15th to early 16th century French vestment table. It would have been found in a private home, where its sliding cover concealed liturgical vestments and communion vessels from disapproving authorities.
Over the last few years the Brauns have completed a multi-story addition. The "vestibule" is an intimate dining space under a dome, overlooking naturalistic waterfalls tumbling over rocks, under bridges and into koi ponds. In the new first floor master suite, all of the furniture is constructed of rare West Virginia wild black cherry, a sentimental nod to Jane Elizabeth Braun's childhood home. Her bath is a study in femininity, while Richard Braun, an alumnus of the University of Southern California, has a mosaic of the "Trojan" inset into his shower. Richard's study features a painting of African lions by Dino Paravano. The Brauns love his "chalk paintings" of African wildlife, so meticulously rendered they appear to be photographs. In the lower level is a bar, pool table, double L shaped sofas, a game room, a fitness area, and a theater room where a crowd of friends can enjoy a movie or the big game.
The second level bedrooms feature adjoining studies for each of their sons and a screened porch connecting the boys' bedrooms, and looking over the pool, tennis and basketball courts.
Jane Elizabeth Braun has designed a "Get Fit" class for her friends in her exercise studio on the top floor. There is a sitting area at one end, where she also meets with her Bible study friends.
The pool house invokes the Braun's sense of fun and friendship. They have an annual "Pirates and Mermaids" party, where their guests come decked out in full regalia. There is a pirate painting and lots of mermaid renditions in the poolhouse, and a mermaid fountain by the pool.
The Cabrera home (the historic Mathy House), Fairfax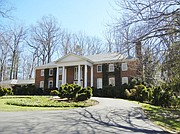 This brick home of the president of George Mason University with pillars set atop a hundred rolling wooded acres was built by the Mathy family in 1964. The "Mathy House" won the architectural award for individual home construction the following year. It was designed to be occupied by Mrs. Mathy, her son John, her sister, and her niece. Mrs. Mathy was fond of European chandeliers and used them throughout. All four members of the household enjoyed cooking, so the kitchen was designed to allow them to work together with two sinks and ample prep space.
The property and many of its furnishings were sold to George Mason University in 1983, as a home for the university president. In subsequent years, the Mathys donated more land and buildings, enlarging the estate. The first president to live here was Dr. George Johnson and his wife Joanne. Since 2012, the current residents have been GMU President Dr. Angel Cabrera and his wife Dr. Elizabeth (Beth) Cabrera. They met while pursuing Ph.D.s at Georgia Tech, married, and spent years in academia, including a 10-year stint in Spain, Angel Cabrera's native country. Now, while he serves as president, she is a "Senior Scholar" at GMU's Center for the Advancement of Well-Being. She has just published her first book, "Beyond Happy: Women, Work and Well-Being," which has garnered the maximum five stars on Amazon.
Entering the foyer, one can note the staircase and the Mathy monogram over the door. There is a small bronze statue of George Mason which was created as a prototype to be carried from place to place to show to prospective donors during the fundraising drive to erect the life-sized statue in the center of the GMU campus. The only difference is that the sculptor corrected the girth — made George fatter — in the finished work. Traveling from room to room one can see the grand spaces for entertaining large parties. Thanks to the original owners' love of cooking, the kitchen is ample for catering such events. The Queen Anne banquet table in the dining room can seat 20, or be broken down so the Cabreras can enjoy family dinners. The living room has Waterford chandeliers, lighted cabinet displaying a collection of Lalique crystal donated by the Mathys, Chinese Chippendale tall case clock, and Steinway grand piano. GMU is proud of the fact that they are an "All Steinway school," and this piano was purchased by the Mertens, predecessors to the Cabreras, and donated to the Mathy House. Made from a rare west African timber, it is a classic Steinway Kewazinga Bubinga.
Parking: Drive up past the house and park in the lot behind.
The Giorgiani Home, Clifton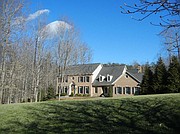 Beth Giorgiani is a lifetime quilter and collector of antiques and Americana. Every room in the brick Colonial that Bob and Beth Giorgiani built in 2000 will delight anyone who has enjoyed the "hunt" for treasures from the past. There are charming pie safes, washstand, baker's tables, dough boxes and bowls, iron kettles, antique chests, old animal troughs and tool boxes.
Apparently the lure of the hunt goes back a few generations. Bob Giorgiani's mother passed on needlepoint covered stools stuffed with horsehair, and an old dental cabinet which she purchased from the University of Pennsylvania dental school. There are a cross-stitches done by his great-great grandmother when she was a girl. Look for her picture in the family room by her work. Beth Giorgiani's grandmother's kitchen table and chairs are in the lower level, reminders of time spent with her. Beth Giorgiani has a knack for repurposing. The antique tool boxes make perfect jewelry boxes, and the dental cabinet provides storage in the dining room.
Almost all of the quilts have been stitched by Beth Giorgiani. There are a couple of exceptions: one in the Sun Room which was done by their daughter when she was 10, and one in Beth Giorgiani's downstairs sewing room which is made up entirely of her many equestrian ribbons.
Beth Giorgiani took up horseback riding in her 30s and she has become an accomplished competitive rider. She keeps a horse in Clifton. There are many different saddles in the downstairs rec room, English and Western, for different types of riding and different size horses. As a horse lover, Beth Giorgiani was sympathetic to a young woman who was trying to use her artistic talents to earn enough money to keep a horse. So Beth Giorgiani paid her to paint scenes on some of her furniture.
Six years ago the Giorgianis renovated their kitchen and built an addition to it. The result is a kitchen with hand-scraped floors, English cabinetry, a granite island with a hammered nickel sink in it and a farmhouse sink under the window looking out over their parklike backyard. On the walls are a hand-painted cardinal, turtle, and the almost hidden bluebird. Adjoining the kitchen is the new addition — a cozy sitting area where two wing chairs face a stone fireplace.
The Waldrop Home, Clifton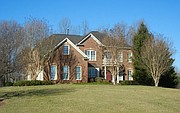 Taste and talent. A person of good taste will create a beautiful home, while a person of talent will create an interesting one. Amy and Jon Waldrop combine both in their home.
Taste. Amy and Jon Waldrop customized their Balmoral home with fine architectural details which are evident in the foyer with its columns, wainscoting and staircase. Here the floors are Brazilian cherry with a chevron design banded by black walnut. Sunshine pours in through windows in the morning room and bright white kitchen with natural stone travertine floors, and into the soaring family room. Adjacent to the family room is Amy Waldrop's office, with a soft cream color on the walls, complemented by silk drapes and creweled silk upholstery, and a needlepoint rug. By contrast, Jon Waldrop's adjoining study is quintessentially masculine. Wine red walls serve as a backdrop to mementos of an Air Force flying career, and a second career with Lockheed Martin. The furniture throughout is scaled to the home, with a handmade Chippendale-inspired walnut breakfront in the family room and the hand-planed walnut dining room table.
Talent. What enriches this home is Amy Waldrop's talent as a self-taught artist — painter, sculptor, photographer, interior designer, and landscape architect. Visitors will walk down a brick path to enter the house from the rear by design, so that visitors will enjoy the full impact of the yard and patio with flowering trees, pots, garden beds, roses and window boxes. Amy Waldrop designed this space. Imagine the comfort of a summer's evening in front of the outdoor fireplace as the rich wood smoke mixes with the floral scented air. Inside the house, every room is made more enchanting by Amy Waldrop's artwork, often inspired by her travels, and by her photographs of foreign scenes and intimate family moments. The entire lower level offers a look into a working artist's studio. Brick walls and slate floors add to the artistic ambiance of this open space filled with easels, paints and brushes set upon large tables where Amy Waldrop and her students can create the fine art that adds heart to any home.
Parking: On the street.