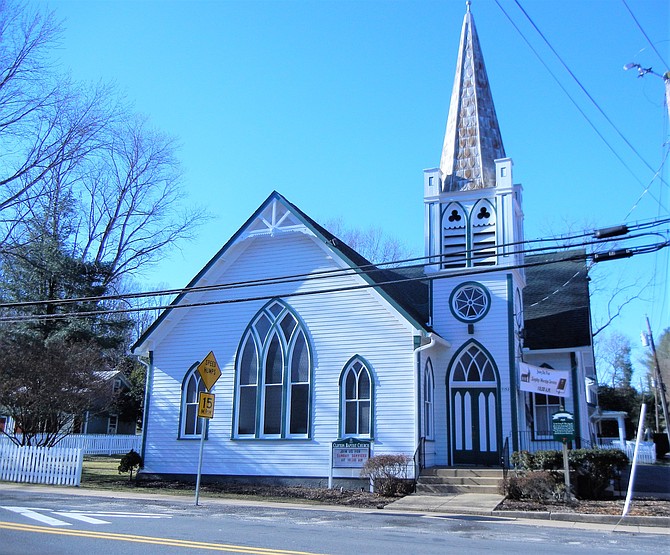 The Clifton Community Woman's Club is preparing the 46th Annual Clifton Homes Tour and Silent Auction on Friday, May 18. Tour: 10 a.m. - 4 p.m. Silent Auction: 10 a.m. - 5 p.m. at the Clifton Presbyterian Church. Proceeds benefit their 501(c)(3) Charitable Trust and are distributed to local scholarships and charities.

There will be guided tours of four elegant homes in Clifton. Tour a farm house built in 1900 with furniture and antiques specific to Virginia. In another home, see how bold colors and true Williamsburg style combine to create a fun family atmosphere. A third home balances natural elements and 18th century proportion. Finally, don't miss the Georgian hilltop manor with Virginia-made furniture, original artwork, and active artist's studio. Free guided tours are offered for two historic churches: Clifton Baptist Church (1910) and Clifton Primitive Baptist Church (1871). Visit Silent Auction, Trinkets and Treasures, and wreath sale at the Clifton Presbyterian Church.

Tour tickets may be purchased in advance at local shops, online at www.cliftoncwc.org, and at the Clifton Presbyterian Church the day of the tour. Tickets: $25 in advance, $30 the day of the tour, $10 for 1 home. Free admission to events at the Clifton Presbyterian Church. Visit www.cliftoncwc.org or contact Kay at kaygilbert@cox.net for more information.
The four homes on the tour include:
The Gaffney Home
The Gaffneys' Virginia Colonial Style home sits on an elevated property in Balmoral of Clifton. Laurie and Peter fell in love with Williamsburg, Va. early in their marriage while visiting Kingsmill on the James for a golf trip. The Gaffneys then designed their Balmoral home in keeping with Carter's Grove, a historic home in Williamsburg. Laurie was also inspired by a home in her own collectible Department 56 Christmas Village.

Upon your entering the home, Laurie's love of Colonial Williamsburg is evident. Richly saturated paint colors and French reproduction Thibault wallpapers adorn the walls. Carefully selected Williamsburg tiles create the fireplace surround in the elegant living room. The large open family room is the heart of the home and a tasteful blend of Colonial Williamsburg and modern day family life. Laurie has a home-based baking business, Clifton Cupcakes. The generous kitchen with double ovens and ample counter space is home to many tasty creations. A restful seating area with a fireplace off of the kitchen is the perfect spot for a cup of afternoon coffee and a good book. This area provides access to an outside patio with hot tub, dining area, and an outdoor fireplace and seating group.
The fully finished basement houses a custom bar, air hockey, pool table, media area, music room, guest room, and Peter's software business. Always the house where the kids like to go, this space is perfect for family fun and action-packed entertaining.

You can reach the second level by either a front foyer staircase or a back staircase from the kitchen. The master suite is adorned with a dramatic Drexel Heritage bed, chaise lounge and crystal lamps. An open walkway takes you to the adjoining boys' bedrooms and a girl's room with a private bath.
Attention to detail, bold use of color, and a true Williamsburg style make this an elegant family home.
Floral Designs by the Dominion Valley Garden Club.
The Healy Home
The Healys designed and built this impressive Balmoral home in 1997. Tom Healy is a builder and you will appreciate his mastery of classical eighteenth century proportion and detail in the timeless facade. Inside, he and his wife Mary Beth chose architectural ornamentation from the same period, such as large cased openings, Corinthian pilasters, Palladian windows, a broad staircase and warm hardwood floors—walnut on the main floor and cherry upstairs.
This is a home built with family gatherings and entertaining in mind. A recent renovation created one open space incorporating the kitchen, casual dining and family room. Here the furnishings are on a large scale, including a farmhouse trestle table with ladder back chairs, the family room with coffered ceiling, stone fireplace and rich leather seating fit for a crowd. The new kitchen will make you swoon. It is as beautiful as it is functional. Soft cream cabinets, a stone accent wall, deluxe appliances, bell jar pendant lights, and a raised fireplace all surround the star of the show which is a huge island topped by a dramatically patterned slab of granite and inset with a hammered copper sink. Nearby, Tom's study is replete with references to his favorite pastimes, most of which have to do with football, skiing and fishing. Pocket doors lead directly to the most inviting home gym, surrounded by three walls of windows overlooking the backyard. Even the couchiest of potatoes would be hard pressed to resist a quick workout here.
Another great family hangout is the lower level which was just renovated this year. There is something for every generation to enjoy with a pool table, air hockey, media room, a portable sauna and a spectacular 1,200 bottle wine room.
On your way out, stop by the pool which is beautifully landscaped for privacy. It includes a stone patio with fire pit, hot tub, built in grill and a charming furnished pool house. This is just one more spot for the Healys to gather for special times with their family and friends.
PARKING: On the street. Floral designs by The Clifton Community Woman's Club
The Jackson Home
The Jacksons' classic Georgian manor commands a hilltop position in Glencairn surrounded by stately trees and sweeping lawns. A gracious foyer sets the stage for the rest of the house with its curved staircase, marble floors, exquisite Regency style Maitland-Smith furnishings, and a huge American Rococo giltwood pier mirror made in Philadelphia in 1860 and still housing its original mercury glass. The adjacent cherry paneled library is Scott's domain, surrounded by sentimental references to his family's heritage as Texas cowboys. It's all here—longhorns, found animal skulls, ancestral photos, and a large Frederic Remington reproduction sculpture. The Jacksons also own "Senterfitt Farms" in Madison, Virginia, purveyors of excellent beef to all of us who shop at Wegmans.
Themes echo as you continue through the dining room and beyond. Look for palace Oriental rugs, elegant Maitland-Smith furniture, other wooden pieces crafted by E.A. Clore Sons, their neighbors in Madison, and Blair's whimsical collections—hands, teapots, miniature chairs. She also displays cherished heirlooms such as a delicate dress from her infancy, her mother's cut glass collection in the dining room display cabinet and perfume bottles on her dressing table, a large soup ladle from Lady Bird Johnson, and a magnificent silver tea service which was an engagement gift to her grandparents.
All of these riches notwithstanding, the unique treasures of this home are on the walls and come from Blair's own hand. She is a master photographer and quintessential artist. She is the president of the Metropolitan Washington Colored Pencil Society. For most of us, this is the first time we will see this medium extensively exhibited in all of its meticulous and vibrant artistry. Her works adorn each room in abundance, along with pieces by her similarly talented friends. Works by her sister-in-law, Kay Jackson, are in a different style and just as distinctive — oils on wood panels with gold, palladium, and silver leaf. To get a glimpse into the mind and method of an artist, don't miss Blair's studio, housing a large drafting table, thousands of colored pencils and other supplies, and "idea boards" to inspire her work.
PARKING: On the street. Floral designs by The Garden Club of Fairfax
The Mulrooney Home
The Mulrooney Home is located a half mile outside of the historic Clifton. In the 19th century this property sat on 140 acres. This house was burned during the Civil War and rebuilt afterwards. The house burned again in 1900 due to a kitchen fire. The 1900 house is a two over two Virginia farm house – two rooms on the first floor and two bedrooms above them. The many handmade bricks found on the property from an earlier structure are used to edge the south facing old well garden.

You feel you are walking into a special place from the past when you walk to the front door up the front brick walkway under the two old silver maples. You enter the home's main parlor which has a wood burning fireplace, the original 1901 heart pine floors and staircase banister. A beautiful antique walnut drop front desk is located to the right of the fireplace. Antique fashion advertising prints for ladies' wear from 1899 to 1901 decorate the wall over the couch. A primitive bench sits outside the small coat closet under the stairs.
An addition with a kitchen, bath, and master bedroom was added in between 1920 and 1950. A large addition for a family room, master bedroom and mudroom was built in 1991. The kitchen was renovated in 2005. Additional upgrades and remodels were done to all the baths in 2014. Attention to detail and traditional design has kept these modern upgrades true to the period of the original home.
The old laundry room in the back now houses two old pieces from the great grandson of Robert E. Lee. This room exits to a charming side porch with a new slate floor. More pieces from the Robert E. Lee family can be found in the family room, a primitive trunk and a painted green chest. Jackie's black and white family photos, an antique tobacco knife from Richmond, 1935 radio, and miniature oil lamps also adorn the family room. The dining room is furnished with her grandmother's Kittinger set with its handmade needlepoint on the chair seats. It also houses her collection of antique teacups, crystal and paperweights. Colorful handmade Persian rugs can be found throughout the home.
The second story with its original banister and railing also boasts heart pine floors. Jackie restored the trim on the 1850s walnut Lincoln bed in the south guest bedroom. An 1850s "butter print" chest and Victorian frames complement this period room. Four antique German exotic bird prints hang in the upper hallway.
The new master bedroom and master bath have cathedral ceilings. The original master bedroom is now the master bedroom sitting room. A small French inlaid antique side table in the master bedroom is very similar to the one in the opening of the PBS series Downton Abbey. An early American antique dresser from a West Virginia estate sits opposite the bed.
The gardens underwent a renaissance from 2005 to 2014 to install deer-resistant foundation plantings including box woods, lamb's ear, English laurels, Goshiki false hollies and spireas to name a few. An abundance of birds including a golden eagle have been spotted. A renovated four-stall barn circa 1940 with tack room and wash room sits at the end of the driveway. Jackie's herb garden is located behind the barn. A regulation size dressage ring is situated on the southeast side of the property. The Mulrooneys do not have horses but use the five acres to rescue and rehabilitate German Shepherds. Additionally, they have set aside 3 acres as a butterfly sanctuary. The milkweed and butterfly bushes bring twelve different species of butterflies in summer.
PARKING: A shuttle will run from the Presbyterian Church to this home. The trip is less than five minutes. Please park at the Presbyterian Church or nearby.
Floral Designs by the Rocky Run Garden Club.