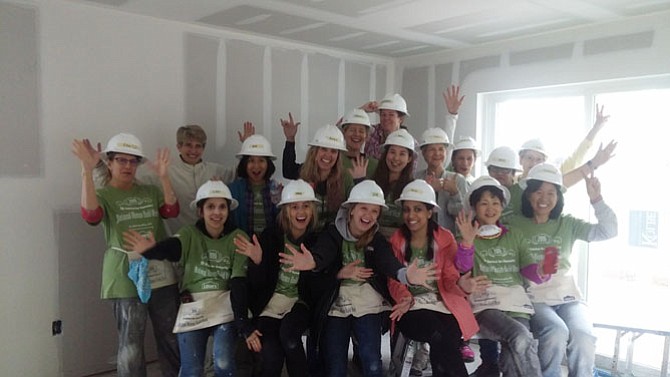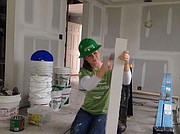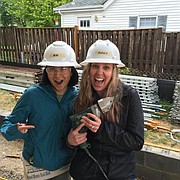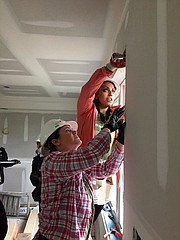 More than 50 women from across Fairfax, Arlington and Alexandria donned hard hats, tool belts and work gloves and, with caulk guns and saws in hand, got to work on two single-family, three bedroom houses Habitat for Humanity of Northern Virginia is building for two local families in Fairfax.

They joined nearly 20,000 women nationwide participating in Habitat for Humanity's Ninth Annual National Women's Build Week April 30–May 8. The national event brings women together to help build houses and open the doors to first time homeownership for deserving low-income families who might otherwise not be able to afford to purchase a home.
Under the supervision and guidance of Habitat NOVA's construction team and its team of regular volunteers known as The Sandlot, the women learned new skills and had fun, all in the name of a great cause – helping local families build and buy their first homes.
"This is such a great event – women helping women become independent homeowners. It's so rewarding to do this plus I'm having fun and learning new things," said Joan Reimann from Vienna.

In addition to volunteering their time, over the course of the week, the women made personal donations and collectively raised more than $10,000, including donations from Fairfax-based ECS Federal and the Woman's Club of Springfield, for Habitat NOVA.
"Habitat NOVA depends on the community's support to make homeownership a reality for hardworking families throughout our area," said Jon Smoot, executive director of Habitat for Humanity of Northern Virginia. "In addition to the incredible work our volunteers do, we rely on individual and corporate donations, pro bono work and gifts in-kind such as siding and lumber. Each dollar we save on construction costs lowers the cost of the house and what our homeowners will pay over the life of their mortgages."
"I've learned so many new skills I can use around my house," said Katya Volkovska who was part of a team of volunteers from ECS Federal. "I'm not married but every man will want to marry me now!"