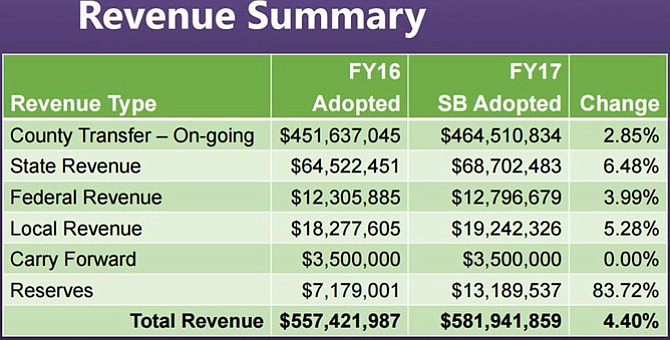 The good news is that the Arlington School Board approved a budget without cutting any of the proposed programs from the $582 million budget the School Board sent to the County Board. Approved on May 5, the budget includes a step increase for all eligible employees and a $14.50 minimum wage. The bad news is it meant dipping $1.3 million into the schools' reserve funding. The potentially worse news is that one-time funding from the County Board is being directed towards ongoing programs, meaning the schools could be starting their fiscal year 2018 budget already $7 million in debt.
"Technically, the County Board gave us $4.5 million in additional revenue to fund our $3.4 million request," said Leslie Peterson, budget director for Arlington Public Schools. "The issue was, the request we had was all for ongoing funding, and they only gave us $2 million in ongoing funding."
There are $7 million in one-time funding dedicated to ongoing programs.
"The implication of that is that, starting next year, we're going to have to make up that difference right from the beginning," said School Board Member Reid Goldstein.
Members of the School Board expressed concerns about dipping into the reserve funding, especially with revelation that the FY 2018 budget was already in the red.
"Ongoing expenditures are things like salaries, which we will need every single year and don't expect to not need next year because we're a growing school system," said School Board Member Nancy Van Doren. "So we can expect next year our budget to increase. But in essence, we are starting our next year $7 million short. So we will be going to the County Board with a $7 million deficit."
Peterson confirmed that this was the case.
"As a rule, it's not something you'd want to do on a continuing basis," said Peterson. "If you're asking whether or not we should continue to use one-time funds on ongoing expenditures in perpetuity, my answer would be no."
For the FY 2017 budget, the total amount taken from reserves totaled $13 million, an 84 percent increase over the $7 million taken in the FY 2016 budget.
"Reserves are like chocolate," said Superintendent Dr. Patrick Murphy. "If you rely on it too much, you find yourself in a position of being off balance and not feeling too well. We have to use the reserve strategy in moderation. We are on the outer limits of that strategy."
Michael Bier, the parent of an APS student, said that the school tapping so heavily into its reserves gave him pause.
"I'm concerned that we're using $13 million in reserve funds to balance the budget," said Bier. "I'm not sure this is a good direction to be going in. We need more money from county and state to meet the needs in Arlington. We have to make tough decisions about whether we're overspending now and cheating children five or 10 years from now who may not have seats."