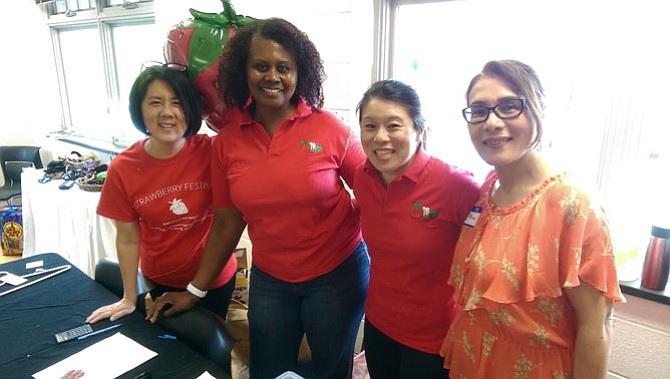 Spring has arrived and it is once again time for the Potomac United Methodist Church (PUMC) Strawberry Festival. The event will take place on May 21 from 10 a.m.-4 p.m. Lines form early and once the doors open, buyers nearly knock one another over in their rush to see what Home Treasures, the Chic Boutique, Vendor Alley or the Silent Auction have to offer. Many people come mainly to feast on homemade strawberry shortcake or to gobble down a chocolate-covered strawberry — or two — or three.
Almost 1,000 people attended this event last year, helping the women of Potomac United Methodist Church raise more than $20,000 to assist local organizations that support women and children. Since 1990 when a group of five women founded the first PUMC Strawberry Festival, the event has become a steadfast tradition in the Potomac community.
This year, PUMC is partnering with local organizations to make the Strawberry Festival even better. The Bake Sale will be organized by the Potomac Glen Day School, which utilizes the PUMC Parrish Center for their Kindergarten and Pre-School. Byte Back, a D.C. non-profit which received funding from the Strawberry Festival proceeds last year, will provide information as well as greeters. Byte Back helps low-income residents of the Washington D.C. metro area improve their economic opportunity by providing computer training, access to technology, and career preparation. Founded 18 years ago, the organization has served more than 7,200 residents in the past 7 years. Not only do they support their students with computer training, but they assist in helping their clients obtain a career that pays a living wage through job readiness training, resume help, cover letter development, interview preparation and job search assistance. They also provide free computers for graduates through their First Time Technology Program. To learn more or to donate, visit www.byteback.org.
Vendors Alley is one of the most popular rooms for beginning a shopping spree. Buyers can shop for trendy fashions, whimsical yet utilitarian pottery, watercolor stationery, handbags from England, fashionable jewelry, items from Tibet, children's tutus and bows and small-batch olive oils. Handmade bath products and chemical-free skincare items as well as free-trade chocolate and tea will also be available.
Vendor Renan Kennedy, who owns SansSkincare.com, said, "I love doing these shows, talking to customers and meeting people in general. But what I'm most passionate about is the opportunity to educate people about the benefits of natural products. All of our products are made from plants and there is not a synthetic ingredient in any of them. We use plants in our products because plants are healing, and they are good for us regardless of how we take them in. Our bodies need plants and plant nutrition because plants are living substances and contain a vital life energy. I hope everyone comes by the Strawberry Festival or at least visits our website at www.SansSkincare.com."
Shoppers love the Home Treasures area, which features a collection of estate sale items and "nearly-new" home furnishings at discounted prices. This is the place where one might find the perfect item for their home — or for a gift.
The Chic Boutique is a place for delving into vintage and "nearly new" clothing for women and children. The patient shopper can often locate designer clothing as well as brand-name fashions for a fraction of their original price.

Head to the Silent Auction to bid on sports tickets, travel destinations, vacation homes, a variety of experiences and restaurant certificates donated by members of the PUMC community. Each of the vendors has also donated an item for the silent auction too.
Don't leave the children at home. Bring them along to play in the Kid's Game Room with teens to watch over them while they lead them in all kinds of games.

By the time one has "shopped for a cause," had the freedom to shop for oneself — bid on a family vacation or two — and maybe even won a raffle prize, it will be time for lunch and dessert. The men of PUMC will be serving a lunch of pulled pork sandwiches, hamburgers and hot dogs. Top this lunch off with a strawberry dessert.
The Strawberry Festival will open its doors at 10 a.m. on the morning of May 21 and will close at 4 p.m. Potomac United Methodist Church is located at 9908 South Glen Road, Potomac — at the intersection of Falls and Democracy Blvd.