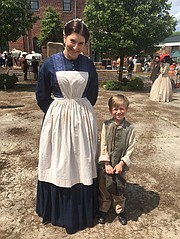 Five-year-old Alexandria City Public School student Reid Hershman, who is a kindergartener at Lyles-Crouch Elementary School in Old Town, has a recurring extra role on PBS' Mercy Street season two.
Reid's mom Jennifer Lewis Hershman said, "He had such an amazing experience. Everyone he met and worked with was so nice. We are so proud that he was able to be a small part of an amazing production that is based in his very own city. It's an amazing history lesson for him."
Mercy Street is inspired by real events of Civil War Alexandria.
Learn more about PBS' Mercy Street at www.pbs.org/mercy-street/home/