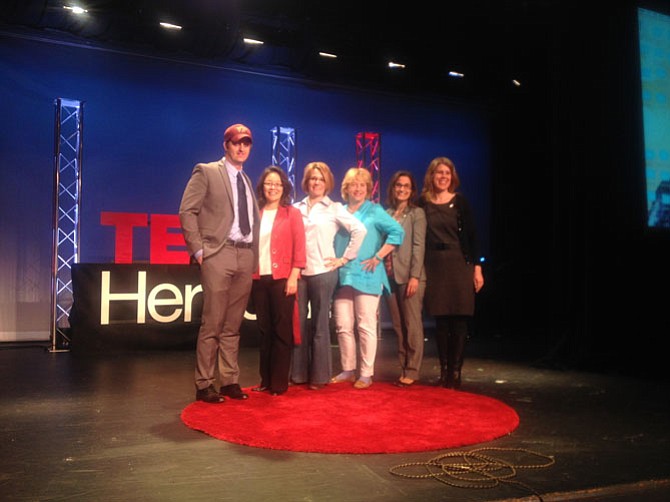 Saturday, May 21, Herndon hosted its second TEDxHerndon event at Herndon Middle School. In the spirit of ideas worth spreading, TEDx is a program of local, self-organized events that bring people together to share a TED-like experience. TED (Technology, Entertainment, Design) is a global set of conferences run by the private nonprofit Sapling Foundation. "The themes we were working with this year were 'Science, Technology, and Wonder,' 'Life, Learning, and Passion,' and 'Sustainability, Leadership, and Hope,'" said Joseph Plummer.
Plummer organized this year's TEDxHerndon event, aided by area volunteers. "I was looking for ways to volunteer, and I heard about this event through [teacher] Scott Pafumi," said seventh grade student Natalie Tubia. Tubia and Cooper Hill were some of the students who volunteered for the TEDxHerndon event. "I really like the idea of everyone gathering together to learn more," said volunteer Linda Kim, a resident of Centerville.
LAST YEAR, Plummer organized a half day event with 100 attendees at Herndon's NextStop Theatre. This year it was full day event with well over 400 attendees. Lunch was catered by vegan restaurant GreenFare. A good number of speakers from outside of Northern Virginia came to speak, including Emmanuel J. Bernadin II, who served tours of duty in both Iraq and Afghanistan. Bernadin described the experience of saluting a fallen comrade as their casket left the base. Also attending the event were members of the Town of Herndon Council and Virginia Assembly Delegate Jennifer Boysko. A film team from Herndon's Moon Bounce Media recorded the presentations.
"This year's Talks were outstanding. The speakers and performers were very courageous with their ideas. The talks were so varied, Emmanuel Bernadin's Talk on military service, Dr. John Mather's Talk on Gravitational Waves, Allesandra Bradley-Burns Talk on failure, Dr. Karen Nolan's Talk on Robotics for Stroke Rehabilitation, Dr. Jesus de la Garza's Talk on Infrastructure, Shantae Edwards Talk on self-empowerment, Dr. Bruce Hull's Talk on the Anthropocene, Katie Beck's Talk on Entrepreneurship, Sara Herald's Talk on Social Entrepreneurship... I could go on and on. Such an amazing group of people," said Plummer.
"TEDxHerndon is more than an event. It is a community of people trying to make the world a better place. I hope that these Talks are able to create some positive change in the Town of Herndon and maybe also at a national and global level," said Plummer. Another speaker was GMU alumnus Chris Savage, founder and CEO of True Honey Teas, a natural beverage startup. Pat Hynes, Fairfax County School Board chairman as of July 2015 spoke on the danger of underfunding schools, and the pressures public schools face.
TEDx events typically happen in major cities throughout the country. "Herndon is well suited for this public share of ideas given the five themes of our vision: honoring people, community, arts and entertainment, sustainability, and business and technology… I hope this becomes an annual event," said Town of Herndon Vice Mayor Jennifer Baker.
"This year's TEDxHerndon was an outstanding gathering of great minds, and passionate people. I was honored to be in the room with each of them. It's hard to choose a favorite, but I know that no one will be the same after hearing "Tattoo" Tom Mitchell's talk, meeting young Natasha and seeing the anguish in their eyes as they spoke. Another incredible person's story was Emmanuel Bernadin, whose tale of triumph after serving in both Iraq and Afghanistan brought attention to the care and service that we owe our veterans. All in all, it was an incredible day in the Town of Herndon, and I thank Joe Plummer for all the work he did to make it happen," said Town of Herndon Mayor Lisa Merkel.
"It was a great event, an interesting and thought provoking mixture of stories from locals, there was something for everyone and a takeaway from every story. It's great to see the community mix and mingle and see ideas take root, discussions form and people come out refreshed and ready to change the world," said Town of Herndon councilmember Grace Han Wolf.