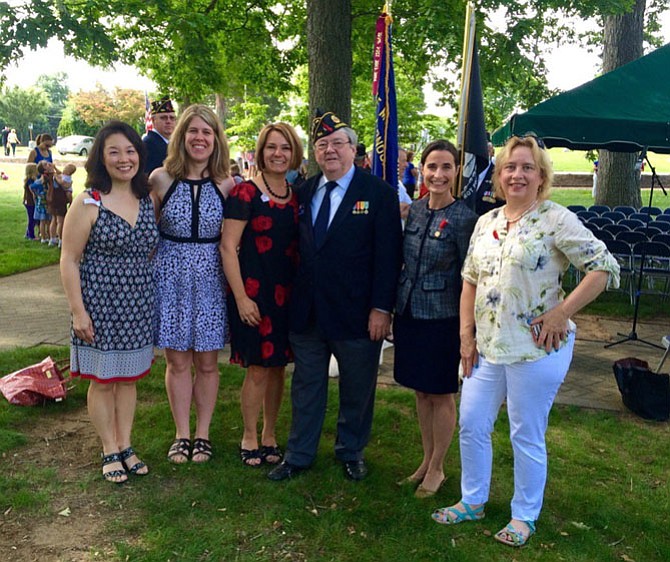 Herndon's Memorial Day activities began at Jimmy's Old Town Tavern with 152 riders departing the Town of Herndon on May 29 to participate in "Rolling Thunder." A family-owned business since 1997, Jimmy's Old Town Tavern is operated by Jimmy Cirrito and located in downtown Herndon at 697 Spring St. Herndon Mayor Lisa Merkel and former town council member Melissa Jonas cheered on riders as they headed towards Washington, D.C.
Each year, members of "Rolling Thunder" and other motorcyclists, veterans and supporters of the military join on a ride from Fairfax to Rolling Thunder in Washington DC, a weekend event to bring attention to Prisoners Of War and those Missing In Action (POW/MIA) of all wars. Patriot H-D and the Harley Owners Group sponsor this community event where bikes from across Northern Virginia and the D.C. region, the United States, and Canada go on a police-escorted ride to meet up with more than 400,000 other bikers at Rolling Thunder in D.C.
On Monday, May 30, Herndon area residents observed Memorial Day at Herndon's Chestnut Grove Cemetery. Officially established in 1872, Herndon's Chestnut Grove Cemetery is the final resting place of veterans, dating back to the Civil War. The cemetery was deeded to the Town in 1997 from the Chestnut Grove Cemetery Association, which had operated the cemetery from the early 1950s. Also attending the event were Town of Herndon's Mayor Lisa Merkel as well as town council members and state Delegate Jennifer Boysko.
After the posting of colors by members of the Herndon High School Navy JROTC, Reston South Lakes High School junior Joseph Letteri played the national anthem on the violin. Herndon councilmember and commander of American Legion Post 184 David Kirby welcomed everyone to the event. After an invocation by Post Chaplain David Womack, Kirby discussed the significance and history of Memorial Day and introduced guest speaker Captain David B. Adler, USN (retired).
Adler is a Naval Officer with over 25 years of service, with most of his career in combat systems and the AEGIS Weapons System. In 2015, Adler took the position of Senior Naval Science Instructor at Herndon High School, teaching Naval Science and leadership to 9th- to 12th-graders. "This holiday is not about holiday discounts and a short workweek," said Adler. He spoke of the sacrifice made by those who served in places of combat. "Each of us must make sure their legacy endures," said Adler. Following the remarks, there was the laying of memorial wreaths, a benediction, and retiring of the colors. This year's Herndon NJROTC color guard included Chris Nesseltree, Brian Alvarado, Jorge M. Melendez, and Santiago Lizama. "It was a good crowd," said David Lacombe, a resident of Herndon and member of American Legion Post 184.
"Every year on Memorial Day more and more Herndonians gather at Chestnut Grove Cemetery to remember the fallen. Councilman Kirby, Commander of the American Legion Wayne M. Kidwell Post 184, does a wonderful job planning a memorable event each year. More than 500 veterans are laid to rest in Chestnut Grove, and the Council and I were honored to be there this morning to pay our respects," said Mayor Lisa Merkel.
"It is very important we honor our fallen soldiers… It is good to have events like this," said Joseph Letteri. Many enjoyed Letteri's violin presentation, which was a new feature for the occasion. Also attending the event were over 20 area Boy Scouts and Girl Scouts. "We think it important the scouts we mentor get an idea of the price of freedom," said Roger Claff, who is on the District Committee of the Powhatan District and associated with Troop 1570. The Town of Herndon and the Herndon Women's Club have previously honored veterans laid to rest at Chestnut Grove Cemetery in December by placing balsam wreaths on the headstones of fallen veterans.