Luke Carron sat at the edge of the astroturf waiting for the balloon release that will carry the note to his father in heaven. Luke came from Charlotte, N.C., with his mother to be part of Good Grief Camp organized by the Tragedy Assistance Program (TAPS) to honor America's military fallen and their families over the Memorial Day weekend. Susan Carron wore a name tag labeled "Suicide Survivor Support Team." Luke has written his father's name on a note and will tie it to a balloon.
Luke joined about 500 other children at Virginia Highlands Park on Hayes Street in Arlington on Sunday, May 29 along with their mentors for the weekend. These children are survivors grieving the loss of a loved one in the military.
Luke's father died in 2010 in Afghanistan when his mother was eight months pregnant with Luke. Good Grief Camp gives children a chance to talk about their feelings and to meet other children who have shared similar experiences. On Friday each child picked a superhero and a super power. Luke said, "My superhero power is to fly." When his mother asked him where he would fly, he yelled out "TAPS." Luke made a mask and a white cape where he had drawn a stick figure of his father on the left and a picture of his mother and himself holding hands above. His name was in large blue letters at the bottom. His mentor, Army Capt. Joseph Quenga, said, "I was his sidekick … but sometimes he fired me."
Quenga, who is stationed at Ft. Bragg and just met Luke this weekend, said the mentors are with the children all weekend to help with whatever they might need and try to get them to open up and talk. "At this age it is hit or miss. But he handles it really well. Every now and then he will mention his father. He always uses his father's full name 'Paul Douglas Carron.'"
Bonnie Carroll founded TAPS in 1994 after her husband, Tom Carroll a brigadier general in Alaska with the Army National Guard, crashed in the mountains with seven others. "At that time there was no national program to support and comfort family survivors." So with about a dozen others, Carroll organized a group and held the first Memorial Day event in Washington 22 years ago. She says the TAPS national headquarters are in Clarendon and she makes her home in Arlington and Anchorage, Alaska.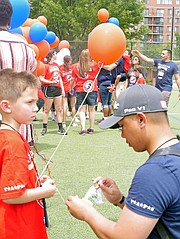 Five days of events in the Washington-area sponsored by TAPS also included interactive activities for children and teens on Friday, an opening ceremony emceed by CNN's Kimberly Dozier, family outings to Washington monuments and a Washington Nationals baseball game, playfield in the park with Washington Redskins, participation in the National Memorial Day parade and Memorial Day observances at Arlington National Cemetery. Carroll says TAPS has assisted more than 60,000 surviving family members, casualty assistance officers, chaplains and others. TAPS offers peer-based emotional support and seeks to fill gaps in need by offering assistance that is not duplicated by the Federal government or the public sector.
The red and gold uniformed fife and bugle corps opened the event. Small bodies dressed in red T-shirts with T*APS printed on the front wiggled on the bleachers as the time approached for the balloon release.
Katherine Dey, long-time TAPS Volunteer, directed the children toward volunteers on the field, each holding a bunch of red, white, and blue balloons.
Luke stepped up and asked for his red balloon. Quenga helped Luke attach the note to the end of his string and then tied it around Luke's wrist so the balloon doesn't float away before the signal. Dey at the microphone says the time has come for all of the children to gather in the center of the field. "Quickly," she urged. "Now we're ready for the countdown. Five, four, three, two, one ..." Hundreds of red, white and blue balloons float up in the air, tangling strings, and slowly disappear with messages to heaven for departed family members.