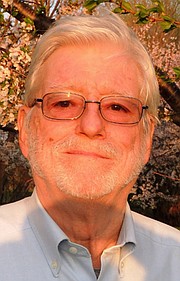 Mount Vernon — David Dougherty, 70, of Stratford on the Potomac, a long-time voting rights protection advocate with the Mt. Vernon District Democratic Committee and a retired attorney with service in several federal departments, died after a short illness on Thursday, Oct. 27, 2016 at Mt. Vernon Hospital.
As a senior member of the Fairfax County Democratic Committee Election Law and Voter Protection Committee, Dougherty was a district liaison with the Fairfax County Election Commission, and for many years in charge of organizing Democratic poll watchers during absentee voting days at Mt. Vernon Government Center and of conducting training classes for volunteer voter registrars. He was respected for his passion for fair elections and his gentle wit.
Dougherty was born in Springfield, Ohio in 1945. He graduated from American University in 1967 and from George Mason Law School in 1988.
A 35-year resident of Stratford on the Potomac, where he was active in the
neighborhood association for many years, Dougherty raised a family with his late wife, Ellen. He is survived by his daughter Elizabeth (Dougherty) Stoddard, granddaughter, Claire Ellen, and two brothers, Gene and Clark.
Friends may call at Demaine Funeral Home, 520 S. Washington St., Alexandria, on Wednesday, Nov. 2, from 2-4 p.m. and 7-9 p.m. The funeral is 10 a.m. Thursday, Nov. 3, at St. Mary's Catholic Church, 310 S. Royal St., Alexandria, VA 22314. See www.demainefuneralhomes.com for more details and an online guest book.