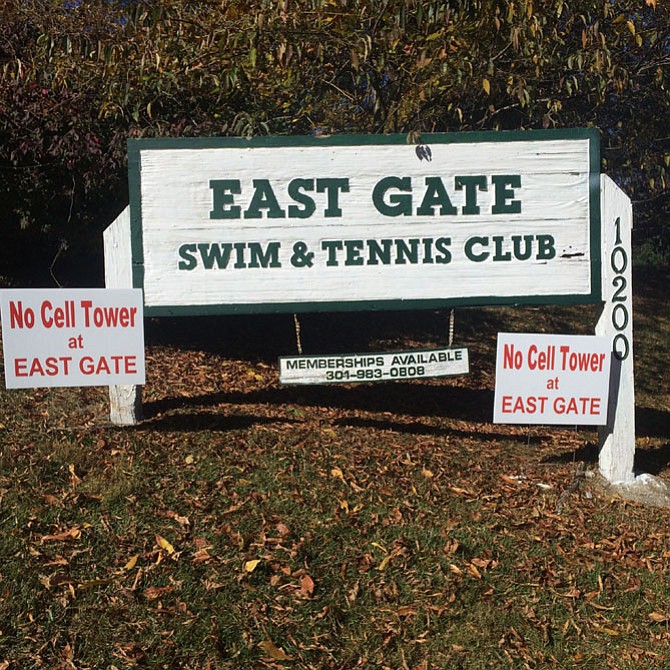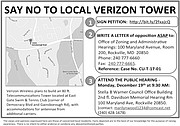 An application seeking to construct an 80-foot monopole in the front parking lot at the Gainsborough Road entrance to the East Gate Swim and Tennis Club has drawn opposition from some residents of the four East Gate communities: East Gate I (Potomac Preserve), East Gate II (Worland), East Gate III (Snug Hill) and East Gate IV (Ridgeleigh).
Neighbors were made aware of the proposal on Oct. 4, when a zoning special use sign was erected on the corner of Democracy and Gainsborough. A Verizon Wireless lease had been signed with the East Gate Recreation Association Inc. in October 2015.
Opponents have launched a petition drive and asked residents to send letters to the Office of Zoning and Administrative Hearings, 100 Maryland Avenue, Room 200, Rockville, MD 20850.
A public hearing is scheduled for 9:30 a.m., Dec. 19 at the Stella B. Warner Council Office Building, 2nd floor, Davidson Memorial Hearing Room, 100 Maryland Ave., Rockville.
The application for the wireless communications site includes installation of 12 antennas and a 35x20-foot area with an 8-foot high chain link fence.  The plan also shows that the monopole is designed to accommodate other antennas from additional carriers in the future.
In the Montgomery County Tower Coordinator's Recommendation from March 31, it states: "The Swim Club property is located amid single-family homes to the north and south along Gainsborough Road. There are wooded areas west of the Swim Club along the Buck Branch of Cabin John Creek, with more residential areas farther west. East of the site is a larger wooded area along Cabin John Creek and Seven Locks Road. The location for the monopole and equipment area is presently used for parking. There are trees between the parking area and Democracy Boulevard to the south."