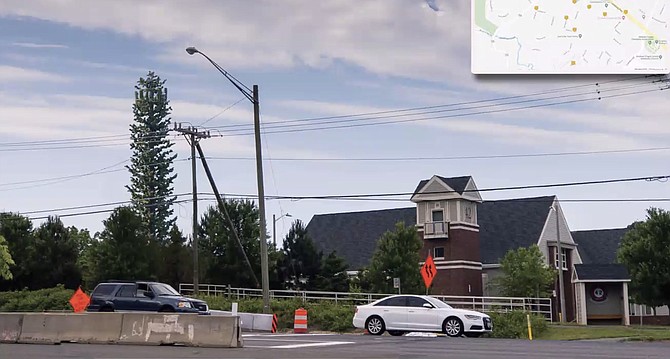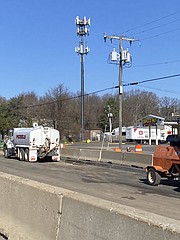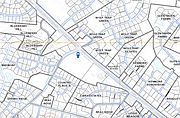 How best for everyone concerned to correct cellular coverage holes in the Vienna-Great Falls Route 7 area is one issue. A second rising issue that may dictate the means to enhance residents' and travelers' connectivity is a purported County commitment not to use a specified Fairfax County Board of Supervisors-owned property in an R-2 residential district for a commercial operation. Intertwined is the possibility of settling for now at least "less than the very best," in 5G technology.
No one at the Great Falls Citizens Association's March 15 Webinar featuring a presentation by Milestone Towers and a community-wide call-in about a proposed 114-foot height monopole at Fire Station #42-Wolf Trap at 1315 Beulah Road, Vienna at the intersection of Leesburg Pike (Rt. 7) denied the need to fill in coverage holes between existing Verizon towers in the area.
Caller Lonn Waters of the Spring Ridge subdivision in Vienna said he supported the tower since he could not make or receive reliable calls. "That's a problem when we're trying to work from home," he said. Glenn Rosenbluth is a resident of the Wolftrap Meadows subdivision in Vienna, a neighborhood south of the proposed tower. According to LinkedIn, he is Director of Construction and Property Management at Milestone. Rosenbluth said he was paying, "God knows what for wireless; it's three, four hundred dollars ...I completely support this project." Naod Desta, Radio Frequency Design Engineer at Verizon Wireless, confirmed that rolling terrain and tree density negatively impact cellular coverage.
Many callers voiced common wireless woes over aesthetics, residential property values, radio frequency (RF) emissions exposure levels, macro vs. small cell technology, and 5G preference, knowing other infrastructure would be required beyond the proposed monopole to handle the high-band spectrum of 5G. A few callers, though, brought forth information that could threaten approval of the Special Exception required for the project.
Applicant Milestone Tower Limited Partnership IV and the Board of Supervisors of Fairfax County filed in the fall of 2020 a Proffered Condition Amendment to amend RZ 78D060 for modifications and development conditions to allow telecommunications facilities. Since the proposed site, public property Fire Station #42 is in an R-2 Residential District, per Fairfax County Zoning Ordinance, monopole structures require a Special Exception approval.
LEESBURG PIKE is considered the gateway to Great Falls, according to Jennifer Falcone of GFCA. Vienna and Great Falls residences face Station #42, each on different sides of the pike according to MapQuest. The Planning Commission hearing on the Special Exception is May 5 and the Board of Supervisors' hearing with the tentative final vote on the matter is on June 8.
According to Chris Harold, Vice President of Milestone Towers beyond the monopole, Milestone plans to install a 50 by 50-foot fenced compound, remove five trees and plant fifteen to twenty trees and install an access road. The tower will initially hold Verizon antennas but likely AT&T and T-Mobile as well. 5G technology will not be on the tower now, according to Harold.
Harold said "macros" is what Milestone calls towers typically 100 to 200 feet in height. They have a range of one to two miles and are meant to overlay coverage in an area. On the other hand, small cells are shorter structures. They are generally positioned in more dense urban areas – a canister on top of a light pole, traffic light, or on the side of a building. Each has a coverage range of approximately a 300- to 500-foot radius and enhances the macro site, offloading its traffic. "(A small cell) fills in spots where the macro site is unable to reach," said Harold.
Desta added that when Verizon identifies coverage holes in its capacity, it deploys a small cell to offload traffic. "At this time, we do not have any proposal or request for funding to deploy small systems in this area," Desta said.
Harold disputed most caller concerns, citing data and endeavoring to mollify residents opposed to the tower. When he did not, Milestone consultants and callers on the line affiliated with Milestone weighed in.
Caller John Callahan, a resident of A Country Place, the neighborhood south and adjoining adjacent Fire Station #42, said a proposed telecommunications tower at Andrews Chapel United Methodist Church on Rt. 7 received a rejection a few years ago by the Board of Supervisors. "Why should it not be rejected now?" "We're not trying to kick this pole down the road to the next community, which was what was done to us here," he said. Callahan asked, "How can this (monopole) not impact and crush property values in our small community?"
Harold acknowledged studies citing antennas as problematic to buyers. He rebutted, saying, "There are conflicting studies that say there are no effects on property values." Harold cited his informal study as a licensed broker. Harold said he pulled home sales data near Matchless Body Works, Inc. on Rt.7 where a tower is located. According to Fairfax County, the zoning description for the Matchless site is I-5 industrial-general.
"Sixty-two transactions have happened from 2007 until today...Property values have increased...by 29 percent," Harold said. Meanwhile, a one-third mile away near Station #42, 96 homes sold in the same timeframe and property values decreased 16 percent, according to Harold.
John Nelson, President of Ciara Estates Homeowners Association, said, "This (seeing an image of the monopole superimposed on a photo of the neighborhood) is an eyesore...visible from most of the homes in our homeowners' association." Harold proposed an alternative to the planned 114-foot telecommunications monopole tower, a 122-foot-tall tree pole monopine tower, with its additional 8 feet of faux tree branches "to make it with a crown, not a flat top toilet brush style."
Som Venkatanarayan of Vienna said, "This is industrial power, not (appropriate) in an R-2 zone. It is a huge health hazard." Caller Paul Dougan responded. He is a telecommunications consultant for Milestone and a Registered Professional Engineer in Virginia specializing in RF safety electromagnetic energy FCC compliance. "No areas at ground level will exceed or approach 1 percent of the federal safety standard, which contains a substantial margin of safety," he said.
CALLER Katherine Chalmers questioned Verizon not deploying 5G technology on the proposed tower. Harold answered, "At some point, they will...as all towers will be."
The Federal Trade Commission voted unanimously on March 17 to open the mid-range, 3.45 GHz for 5G flexibility making it available for auction and deployment in next-generation 5G networks. The FCC is planning to start the auction in October.
One of the final callers, Doug Lovejoy, is a resident of A Country Place. He said in 1989 when the fire station was first proposed, the County said there would be no commercial development on the fire station's acreage. In 1995, a similar cell power company proposed similar power, with citizens voicing the same concerns. With the session videotaped, Lovejoy said he filed a Freedom of Information Act request and received a copy of the tape in which there's an eight-minute segment that described "the County's commitments to our community."

"That cell phone tower was defeated for a number of purposes but also because that commitment did not provide access to that site to commercial ventures," Lovejoy said.