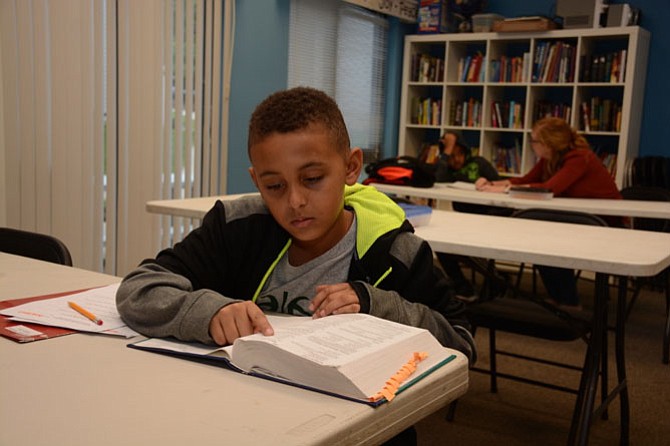 On a weekday afternoon, young Fairfax resident Demetrius Dowling works independently on an extra math word problem. A few rows behind him, George Mason University senior and volunteer Rebecca Curtis spends time on a division problem with Yasir Abuelhassan, also from Dowling's neighborhood.
The boys are receiving after school homework assistance at the Robinson Square community center, owned by Fairfax County and operated by Fairfax-based non-profit FACETS.
"If you don't do homework, you get bad grades," Dowling asserted.
The Robinson Square center serves 42 households in the eponymous Fairfax public housing community, where the average monthly income is $1,400.
FACETS works through various programs to support parents, children and other individuals in Fairfax County experiencing the effects of poverty. These include education and community development, hot meals, hypothermia prevention and response, and housing services.
According to the Office to Prevent and End Homelessness in Fairfax County, there are around 64,000 individuals living in poverty in the county.
"The FACETS Education and Community Development program is designed to not only end poverty now, but to provide the infrastructure so that families can break the cycle of poverty for future generations," the organization's executive director Margi Preston said.
"We basically have a two pronged approach," Preston continued, "Working with children to promote academic and social well-being, while the second gives the parents and other adults in the community the support they need to increase their economic stability."
WHAT THIS LOOKS LIKE at the Robinson Square community center includes after school homework help for elementary through high school students, snacks, a computer room with internet access and movie nights. Additional programs focus on developing self esteem, preventing substance abuse, forming healthy relationships and planning for college or a career. All services are free to community members.
Programming for adult residents includes cooking classes, computer literacy classes, first time homebuyers classes and specific times when the computer lab is open for just adults to use.
They develop increased employability and have case management, space and time to sit and talk about goals, explained Erin Hansen, team leader for education and community development at Robinson Square.
Fairfax County manages around 1,100 public housing units like Robinson Square. FACETS operates the same Education and Community Development program at three other affordable housing communities including Wedgewood in Annandale, Barros Circle in Centreville and Ragan Oaks in Fairfax, with Wedgewood being the largest by far.
Marc Gonzalez of Gainesville recently began volunteering to tutor students at Robinson Square.
"It's very rewarding to work with the kids," he said, "to give back in that way. It's challenging, trying to figure out how to get your point across, but we figure out how to make both of our times go the furthest."
According to Preston and Hansen, 60-70 percent of students that come for help show improvement in school over the year. Across Fairfax County last year, that amounted to 301 youth who participated.
THEY RECOGNIZE the grade growth with an annual achievement banquet. Last year, all five of the high school seniors who participated went on to two- and four-year universities.
"Community developing is a long-term goal," Hansen said, "not an overnight success. You want to see immediate results -- maybe moving from part-time to full time with benefits" is an achievement it takes a long time to unlock.
Kevonte Veney sits in the computer lab at Robinson Square playing a math game with spaceships and aliens. "It takes forever to do homework online at home, at my house," he said.
Veney described the Robinson Square community center as "pretty good."
"I like getting help with work, playing on the computer, it's pretty fun," he said.
For more information, visit www.facetscares.org.